Fifty Plus Racing Riley BMW Prepared by Doran Racing
Rebounds from Crash To Finish Ninth in Rolex 24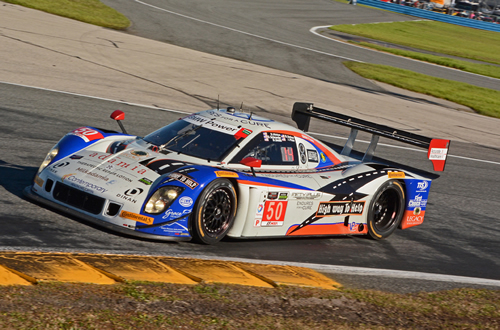 photographer, Joe Jennings
DAYTONA BEACH, Fla., Jan. 29 — It was an emotional rollercoaster, but Fifty Plus Racing achieved the goals it set for the 2015 Rolex 24 at Daytona International Speedway and then some.
One of the major images generated at the "Roar Before the Rolex 24" pre-race test Jan. 9-11 at Daytona was of the team's "Endures for a Cure/Highway to Help" Riley BMW #50 flipping on the frontstretch and coming to a rest upside down on the track after running over debris and cutting a tire. Luckily driver/car owner Byron DeFoor escaped serious injury.
The car wasn't as lucky. Many other teams would have simply withdrawn from the upcoming race. But thanks to the hard work of the team that prepares the car, Doran Racing, the #50 was repaired at its headquarters in Lebanon, Ohio and was back at Daytona last week, ready to undertake the twice-around-the-clock classic on Saturday and Sunday.
Fifty Plus Racing's primary drivers are all over age 50, and the team does not have the monetary resources of the teams at the top of the time sheets. Instead of winning, its primary goal is the first goal of every endurance sports car team: to finish the race. That's a daunting goal for all competitors, since mechanical issues and accidents can quickly end their day prematurely.
This is especially true at the Rolex 24, where high-performance parts and humans are stressed over a 24-hour period. Last weekend 24 of the 53 cars that started the race didn't make it to the finish. But among the 29 that took the checkered flag was the Fifty Plus Racing #50, so the team achieved its primary goal.
Its top-10 finish of ninth in class was icing on the cake.
The record books will show that its official finishing position was ninth out of 16 cars in the Prototype class, and 32nd out of 53 overall.
It was a great accomplishment for all concerned, and especially for the team's five drivers: Jim Pace of Ridgeland, Miss.; Bryon DeFoor of Ooltewah, Tenn.; David Hinton of Clearwater, Fla.; Dorsey Schroeder of Little Torch Key, Fla. and Doug Smith of Roswell, Ga.
Pace, a two-time Rolex 24 winner, took the lead driver role and qualified the car 14th in class and 29th overall.
Schroeder, who also has a long list of racing accomplishments, including a Trans-Am championship, was making his return to the cockpit after an absence of 13 years.
DeFoor, the car owner, has many years of sports car experience.
The same can be said of Hinton, the owner of Historic Sports Racing (HSR), one of the largest vintage racing sanctioning bodies in the United States.
Smith, who at 36 is Fifty Plus Racing's only driver under the age of 50, got the call at the last minute to help with the night-time stints. Although this was his first Rolex 24, he's a professional racing instructor who teamed with Andy Wallace to win a class at the Classic 24-Hour HSR vintage race at Daytona last November. That weekend Smith and Wallace's Audi R8 beat, among other cars, a Riley & Scott driven by Pace, DeFoor, Hinton and another key player on the team, Brian Johnson of the rock band AC/DC.
Pace and then DeFoor drove the #50 during the first hour of the Rolex 24 on Saturday. They were immediately faced with a treacherous "green" track, since an overnight rain washed away some of the tire rubber laid down in previous races and practice and qualifying sessions. They withstood the pressures and got the effort off to a good start with no incidences.
Schroeder set a fast lap of 1:44.233 on sticker tires on lap 60 during his first stint while running 13th in class. Five laps later his foot went to the floor, however, when the car lost its brakes at about 190 miles per hour. Schroeder masterfully kept the car off the wall and brought it back to the garage, where the crew made repairs quickly and got him back on the track.
From hours three through seven the car was scored in 14th place in class as each of its primary drivers took turns behind the wheel. It rose to 11th at Hour 8 at 10:10 p.m. Saturday night with Pace driving. It stayed in 11th place for the next five hours, with Smith getting his first Rolex 24 experience around 11 p.m.
Hinton and Pace also drove during the night. Pace set the car's fastest lap of the race just before 3 a.m. Sunday when he was timed in 1:43.796 on lap 341 in the cool night air. By 4 a.m. the car broke into the top 10 for the first time, and a top-10 finish became a definite possibility.
Smith was shown in ninth place by Hour 15 and eighth by Hour 16. Hinton was able to keep the car in eighth as dawn broke Sunday morning. The car remained in eighth throughout the morning, and it was 20 laps ahead of the ninth-place car at lunchtime.
At that point, with an engine problem looming and no additional positions to gain, the team decided to save the car's engine and be around at the finish. It placed ninth, completing 590 laps around the 3.56-mile road course over the 24-hour period.
The final goal for the team — and the most important — is to raise as much funds as possible to fight Alzheimer's disease through Fifty Plus Racing's Web site at FiftyPlusRacing.com or on its Facebook page. With the fans' help more money was allocated towards that goal during the Rolex 24, but there is still time to make donations by texting ACDC to 51555 or by calling 1-800-349-1753. Donations can also be easily made by credit cards or PayPal through FiftyPlusRacing.com.
The Rolex 24 was covered in part on Fox. Coverage of all 24 hours of the action can be viewed on the Tudor United SportsCar Championship's YouTube channel. More information is available at IMSA.com.
The team's next race is the prestigious Mobil 1 Twelve Hours of Sebring fueled by Fresh from Florida March 18-21 at Sebring International Raceway in Sebring, Fla.
For more information on Doran Racing, a legendary endurance sports car team that has overall victories in the Rolex 24 and several championships to its credit, see DoranRacing.com.
Driver post-race quotes follow:
Byron DeFoor: "The 2015 24-hour was a rollercoaster event for me. It's always a high to build up to the actual race day. My colleagues at Grace Healthcare spent tireless hours having events to promote the car and raise money for Alzheimer's research. Brian Johnson went beyond the call of duty helping us with filming commercials and doing interviews whenever called upon. He stepped up to the plate and did anything we asked.
"Kevin Doran made sure the car showed up, ready wrapped and beautiful, to every location for the next event to promote the race and our Alzheimer's foundation. Jim, David and Dorsey, my friends and driving partners, were always there doing their part of the job, which even included hosting silent auctions and working with IMSA to secure car cameras and TV time to tell our story and what we are all about.
"Since I was badly bruised and sore from my cash at the test, Doug Smith was asked at the last minute to fill in as a driver if needed. He did a great job driving during those lonely night hours. Of course it's always comforting to hear the voices of our friends and spotters, Jeff, Carl and Dixon. Thank you guys for watching our backs!
"Kevin and the Doran Racing team performed miracles after the crash to get the car ready in a week to return to Daytona Speedway for the 24-hour race. The car actually looked better than before I crashed. Thank you, Kevin!
"When I strapped in for the first time, post-crash, lap after lap I tried to conquer my fear of something going wrong. The least bit of vibration from tire off-line build-up or seeing other cars crash in front of me would send me into a mind rush of my crash at the test.
"I finally began to get comfortable during the last hours of the race, and then suddenly the #54 car with Colin Braun at the wheel caught fire. My mind and thoughts took me back to my crash, thinking of what it would be like to be trapped inside if my car had caught fire.
"I'm glad Colin was able to get out of his car and over the wall quickly. The truth is, racing is a very dangerous sport. I realize race cars are built much safer than in the past, but it sure feels good at the end of a race to look at your family and smile and be able to say I made it home safely."
Jim Pace: "The Daytona 24-hour is more than just another race, and this year with the 'Highway to Help' team was a real emotional rollercoaster!
"Kevin Doran's crew performed wonderfully preparing the car and worked tirelessly with great attitudes. Sharing the drive with Byron DeFoor and David Hinton again was fun. Doug Smith did a real nice job joining in the night sessions. And how awesome to have Dorsey Schroeder as a teammate! He's a great driver, a great guy and a great friend!"
Dorsey Schroeder: "My return to the Rolex 24 at Daytona after a 13-year absence was both emotionally and physically demanding. When I retired back in 2002 at Daytona driving for Dyson Racing, I told Chris Dyson it was time for me to move on. Thirteen years later, and a lot of water over the dam, I had the chance to return.
"I have to thank Jim Pace for being my friend and for believing in me. I have to thank Byron DeFoor, David Hinton and Brian Johnson for being my friend, and believing in Jim. And I have to thank Doug Smith for having my back, and doing an outstanding job in his first Rolex 24.
"I was drained after the race emotionally and physically. However, you can't slap the smile off my face.
"To Kevin Doran's team a huge thank you for a job executed perfectly. To all my fans, thank you for your gracious comments. To my Lord God, thank you for delivering me safely!
"Next, Sebring!"
David Hinton: "This was my second Rolex 24 at Daytona, and what a rollercoaster ride it was, from the lows of the Roar to the high of pushing the car to the starting grid in front of all our friends and family.
"After spending the last 25 years on the other side of the fence, I appreciate every lap of every stint racing with some of motorsports' biggest names of today and the future. I would not want to do it with any other team or any other teammates. We made memories that I will never forget."
Doug Smith: "Great things can come at the last minute, and that was definitely the case here. The whole experience is still on a surreal level for me.
"First and foremost, I want to thank everybody at Fifty Plus Racing and Doran Racing for their hard work and dedication. To take a car that had so much damage at the test and make it a 24-hour finisher, all you can say is, 'Wow!'
"I would like to thank my teammates first and foremost: Byron DeFoor, Jim Pace, David Hinton and Dorsey Schroeder. I am honored and humbled to have had the opportunity to be their teammate for my first 24 Hours of Daytona. Thank you again for the belief in me.
"It was also an honor to be part of an organization that is in a fight not only for a win in a car race, but also in the fight on a bigger scale against Alzheimer's disease. When caring and amazing people band together almost anything is possible, and a cure will be found!"
For more information about the series, see imsa.com.
For more information on Doran Racing, see DoranRacing.com.
The team also has a Facebook page.