Doran Racing's #14 Nissan Finishes Third
While Its #41 Nissan Is Seventh at Lime Rock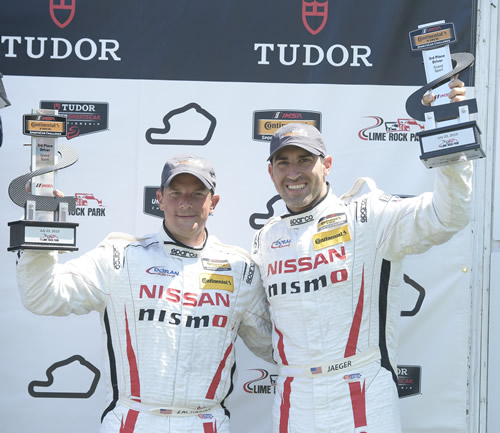 LAKEVILLE, Conn., July 25 — Brad Jaeger and B.J. Zacharias, drivers of Doran Racing's #14 Nissan 370Z, have now been on the podium in half of the six Continental Tire SportsCar Challenge races held so far this year.
They're getting ever closer to a runner-up finish and a victory, as Zacharias was only 0.117 of a second behind the second-place car Saturday at Lime Rock Park after 2 hours of torrid competition.
The team's sister car, a similar Nissan 370Z that carries #41, was in fourth place with just 12 minutes remaining but ended up seventh. It was the fourth top-10 finish for the #41, which was driven here by two Nissan GT Academy champions, Nicolas Hammann and Steven Doherty.
Jaeger qualified seventh in the #14 and drove the first half of the race, setting the car's fastest lap of the race on lap 13 with a 57.952 while running sixth, right behind the #41. The #41's fastest race lap came one lap earlier when Hammann posted a 58.062 for the seven-turn, 1.53-mile road course. He qualified fifth on Friday with a 58.140 despite the fact that he was making his series debut and his first start at Lime Rock Park.
The two Nissans ran in fifth and sixth from the drop of the green on Saturday until lap 21, when Scott Maxwell passed Jaeger in the Ford Shelby that went on to win the race.
Hammann stayed in fifth place and Jaeger in seventh until they both moved up one position working lap 33 with about 40 minutes gone when the second-place car was hit by the third-place car. They both moved up one more spot when the guilty driver served a penalty for the contact five laps later, which put Hammann in third and Jaeger in fifth.
Hammann had been battling the driver who was now second, Austin Cindric, for many laps. He was still applying pressure when he dropped from third to fourth working lap 47 when Maxwell passed him with 51 minutes gone.
At the halfway point Hammann was still in fourth and Jaeger was fifth, but Hammann came in for his one pit stop on lap 57 in third place after the leader pitted a lap earlier. Doherty climbed aboard the #41 after it received fuel and four fresh Continental tires, and he began his stint in sixth place.
Jaeger was still on the track and had vaulted into the lead on lap 58 due to the other frontrunners' pit stops. He made his pit stop on lap 60 as the race leader. It went perfectly, and Zacharias began his stint in fourth place with his team car right behind him in fifth. At that point Zacharias was also some 14.804 seconds behind Billy Johnson, who had recently taken over the eventual winning car from Maxwell and was third with 53 minutes remaining in the race.
Johnson passed Lawson Aschenbach for the lead on lap 69. At that point Zacharias was still in fourth and Doherty was fifth. Zacharias was setting the fastest lap times of anyone at that point, and he'd cut the margin to the third-place driver, now Jade Buford, to 10.470 seconds. Zacharias was about 2 seconds ahead of Doherty, who in turn was about 1.248 seconds ahead of the sixth-place driver, Robin Liddell.
By lap 77, with 36 minutes remaining, Zacharias was still in fourth place but he had cut Buford's advantage to just 3.223 seconds. Doherty was still in fifth. He not only was still ahead of Liddell, but he had built up a 3.018-second advantage over the veteran.
A minute later a slower Street Tuner car hit the second-place car, which was being driven by Aschenbach. He plummeted from second to sixth when Zacharias, Doherty and Liddell all capitalized on his misfortune and sailed by him. That put Zacharias into third and Doherty into fourth with 34 minutes remaining.
Zacharias had cut the margin from third to second from 5.974 seconds at that point to just 4.5 seconds when Kevin Boehm went off course on lap 92. Boehm parked his Honda Civic in a safe area, but the event's second full-course caution waved on lap 95 with 20 minutes remaining in the race when that car's brakes caught on fire while stopped.
The full-course caution closed up the field, but it also let the top two Mustangs' tires cool down prior to the restart on lap 97 with 15 minutes remaining. Zacharias continued to keep the pressure on the second-place car driven by Buford right up until the end.
At the checkered Zacharias was third, only 0.117 of a second behind Buford and 0.212 of a second ahead of Liddell.
With about 11 minutes remaining there was contact between Liddell and Doherty, and Liddell got by him for fourth place. Doherty was experiencing problems with his car's throttle, and he was forced to let Aschenbach and Kyle Marcelli by him working lap 102 with 10 minutes remaining to drop him to seventh, which is where he finished.
The race was broadcast live on IMSA.com and it will be shown on Fox Sports 1 at noon Eastern time on Sunday, Aug. 2.
The next race is coming right up Aug. 8-9 at Road America in Elkhart Lake, Wis.
Hammann's birthday is tomorrow (July 26), while Zacharias celebrates another trip around the sun on Aug. 6 and Doherty does the same on Aug. 11.
Driver bios and additional information are available on DoranRacing.com, and the team also has a Facebook page.
Driver post-race quotes follow:
Brad Jaeger, Charlottesville, Va.: "We were close to second, but B.J. did a great job holding off [Robin] Liddell for those last few laps.
"The car was good. The changes we made to the set-up after qualifying helped overall; it was a lot better today. For my stint it was just go out, stay within sight of the leaders and stay clean. Nothing really exciting happened, but that's good. Doran Racing did an amazing job with our pit stop, and B.J. did a great job to bring it home in third.
"My tires were shot when I came in. The track was a little slippery but nothing crazy. I had no contact and no issues; it was just post quick laps and hand it over to B.J. in good shape, and it all worked out with another podium finish!"
B.J. Zacharias, Cincinnati: "I didn't have any issues; I really have to say that it came down to the pit stops. The team did a great job in the pits, and that helped us get ahead of a bunch of cars. I just tried to work through traffic.
"I think if we had stayed green, Jade [Buford]'s tires would have fallen off and given us a shot, but the podium finish is awesome. We just want to get a little higher on the podium.
"Nic did a terrific job, especially considering it was his first race in this series and at this track. I think Steven might have gotten hit at the end. Brad did a great job in our car too, and kept it clean. We were able to pick our way through the ST cars. I had a couple close calls, but it worked out.
"Road America, here we come!"
Nic Hammann, Elkhart Lake, Wis.: "It was a blast! Everyone on the team did a great job. We were in line for a top five until the end, but it was still good.
"We lost some time on our pit stop, and we have some other stuff to improve on for Road America, but it was still good.
"The throttle acted up once for me, but other than that it was fine.
"I had a good battle with Austin Cindric. It was a lot of fun. In some parts of the track he was better than I was and on other parts I was stronger, so I was trying to capitalize on him in those places. I don't think I was as confident as I should have been in Turn 1, but hopefully that will come as I get more laps in.
"Everyone on the team did a great job and they were really helpful to get me up to speed.
"It was a good experience, and I'm looking forward to Road America!"
Steven Doherty, Plainfield, Ill.: "I got pushed off by one of the Stevenson Camaros; [Robin] Liddell.
"We were running well. We were third and fourth with about a half-hour to go, but we had some throttle problems like we had at Mosport, and it was getting worse. It caused me to go wide in Turn 1, and the contact was at the exit of Turn 2.
"Then, with the throttle issue, I just had to let the other guys go by me so I didn't cause a crash. We took what we could get and brought the car home in one piece. We ended up seventh; not too bad.
"The throttle was acting up here and there with about 45 minutes left in the race. It was manageable at that point, but then it was cutting out for a couple of seconds at a time, so we couldn't keep up with the lead pack at that point. I just had to pull over and let those guys by.
"Nic did an awesome job; he brought the car in third for our only pit stop. We were riding around waiting for the Mustangs to burn their tires off, but we had those problems and it didn't quite work out as well as we hoped."
For more information about the series, see imsa.com.
For more information on Doran Racing, see DoranRacing.com.
The team also has a Facebook page.