Veterans in Doran Racing's #14 Nissan 370Z
Hope for Another Podium Finish
Saturday at Road America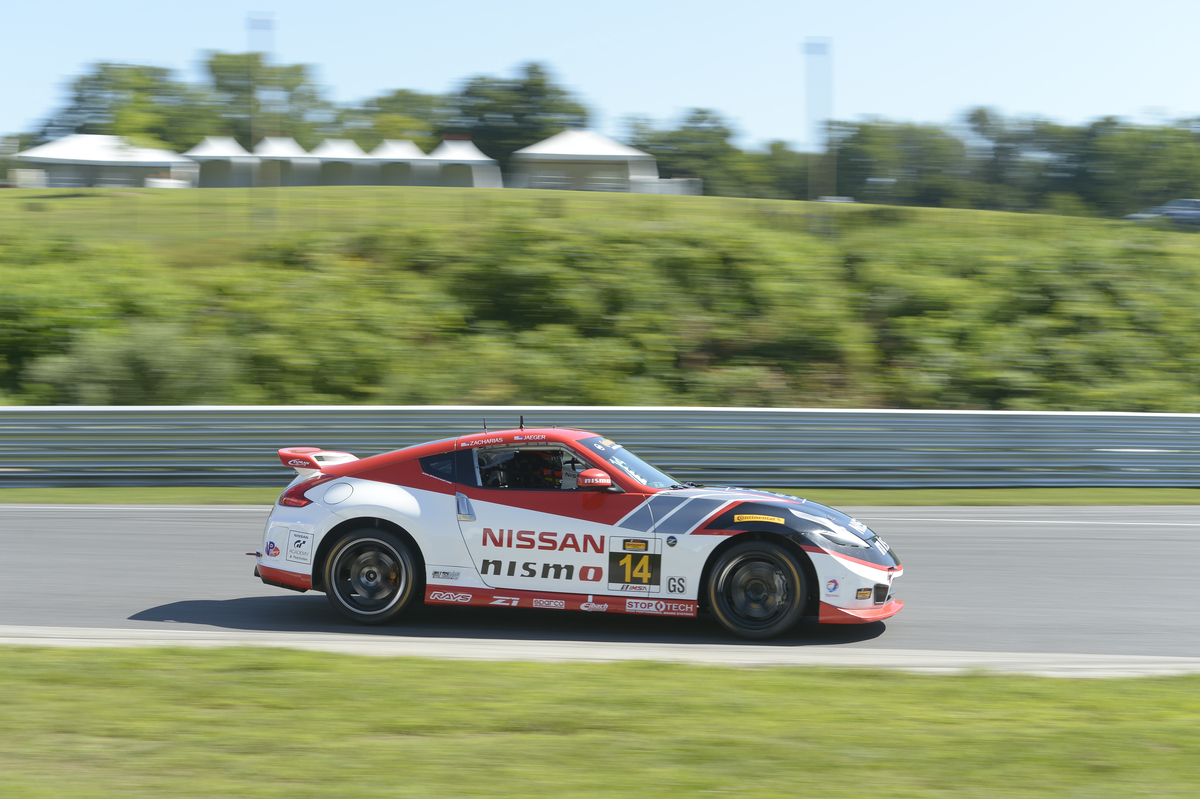 LEBANON, Ohio, Aug. 3— After achieving a podium finish on the shortest track on the Continental Tire SportsCar Challenge circuit on July 25 at Lime Rock Park, Brad Jaeger and B.J. Zacharias would like to duplicate those results with their Doran Racing Nissan 370Z #14 at the longest course on the circuit this Saturday at Road America in Elkhart Lake, Wis.
Jaeger, of Charlottesville, Va., and Zacharias, of Cincinnati, have been on the podium in half of the series' races so far this year, and they'd like even more podiums in the four remaining events in 2015. They are currently fifth in the Grand Sport driver point standings.
A second or a victory at Road America would be especially nice for Zacharias, who celebrates a birthday on Thursday.
"Road America is one of the best tracks in the United States, not only from its heritage, but because of its combination of long straights with both fast and technical turns," Jaeger said. "I always look forward to heading to Elkhart Lake to race and enjoy a Johnsonville brat. We didn't have the best race there last year, but hopefully we'll be able to finish on the podium this year!"
"I'm really looking forward to Road America," Zacharias concurred. "We've had good success there in years past.
"We're doing OK," he added. "The rest of the way home it really suits our car. I don't know if we have what it takes to win the championship, but the remaining tracks should be good for us, so we'll see what we can do!"
Following Road America, the series has races at VIRginia International Raceway in Alton, Va., Aug. 22-23; Circuit of the Americas in Austin, Texas, Sept. 18-19, and Road Atlanta in Braselton, Ga., Oct. 2-3.
Bryan Heitkotter put the Doran Racing Nissan 370Z #14 on the pole at this race in 2013, and then he and Zacharias drove it to a third-place finish. Heitkotter led the most laps (17) and Zacharias led six laps that day.
Last year the Doran Racing #41 Nissan 370Z finished seventh here with John Farano and David Empringham at the controls, while Jaeger and Zacharias were tenth in the #14.
This time around the #14's sister car, the #41, will be driven by Nissan GT Academy champions Nic Hammann, a hometown boy from Elkhart Lake, and Steven Doherty of Plainfield, Ill.
There are a total of 15 cars entered in the GS class and 27 in ST.
The action gets underway with practice sessions at 9 a.m. and 11:30 a.m. Eastern time on Friday before qualifying for the Grand Sport class is held at 4:40 p.m. Eastern that same day. Saturday's 2.5-hour race starts at 1:20 p.m. Eastern. It will be carried live on IMSA.com and also broadcast from 8 p.m. to 10 p.m. Eastern time on Monday, Aug. 17 on Fox Sports 1.
Additional information is available on DoranRacing.com and the team's Facebook page.
For more information about the series, see imsa.com.
For more information on Doran Racing, see DoranRacing.com.
The team also has a Facebook page.