Rookies in Doran Racing's #41 Nissan 370Z
Hope for Hometown Advantage
Saturday at Road America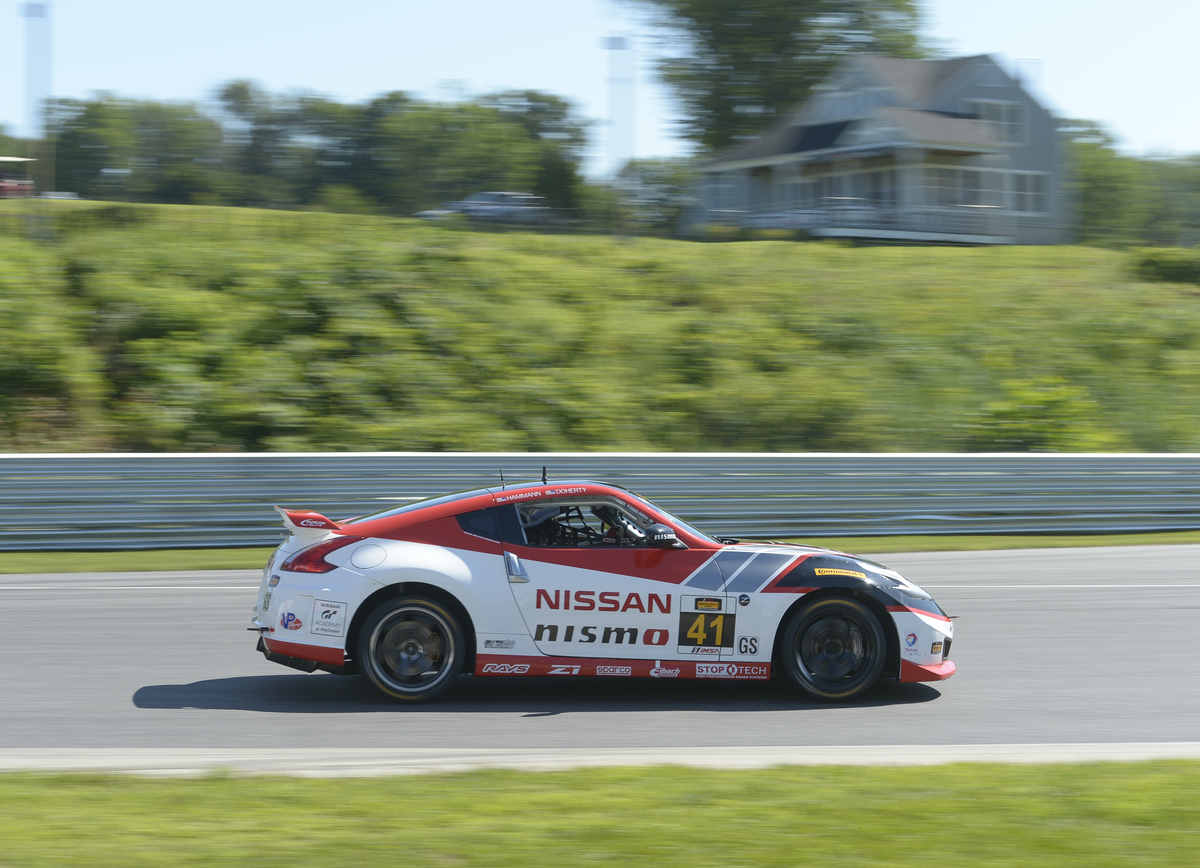 LEBANON, Ohio, Aug. 3 — A fan who voluntarily wears a plastic wedge of cheese on his head can't be tabbed as someone who doesn't care about the home team.
Cheeseheads attending Saturday's Continental Tire SportsCar Challenge race at Road America in Elkhart Lake, Wis., who are looking for local drivers to cheer for need to look no further than the two rookies who co-drive the #41 Doran Racing Nissan 370Z. Nic Hammann is a hometown boy from Elkhart Lake, while his co-driver, Steven Doherty of Plainfield, Ill., also considers Road America to be his home track.
Both young men feel lucky to be racing in the CTSCC series at the 4.048-mile, 14-turn road course. They didn't get here by the traditional route. Instead, they're both champions of Nissan's popular GT Academy, which takes gamers and turns them into real-life race car drivers.
Hammann won the GT Academy last year. He's making only his second start in the CTSCC series and with Doran Racing, which is based in Lebanon, Ohio. He turned 22 on July 26.
Doherty, who won the GT Academy in 2012, has more experience but he's making only his fifth start with Doran Racing. Doherty competed in a limited CTSCC campaign last year in the Street Tuner class, and he made his debut in the faster Grand Sport division just this May. He also made six starts in the Pirelli World Challenge's TC class last year and had two victories, including one at Road America. He'll turn 32 on Aug. 11.
Doran Racing fields two Nissan 370Zs in the CTSCC series, and the rookies in the #41 look to the veterans in the #14 for guidance. Brad Jaeger of Charlottesville, Va., and B.J. Zacharias of Cincinnati drive the #14. They have been on the podium in half of the series' races so far this year, and they'd like to build on that on Saturday at Road America. The two Doran Racing Nissan 370Zs join 13 other cars in the Grand Sport class and 27 cars in the Street Tuner division in Saturday's 2.5-hour race, which is slated to begin at 1:20 p.m. Eastern time, 12:20 p.m. local.
Jaeger and Zacharias are old hands at driving race cars, but they remember when they got their start just as Hammann is doing now.
"Growing up only seven miles away from the track and racing go-karts there starting at age 12, it is truly amazing to be racing in the Continental Tire Sports Car Challenge race at Road America in the GT Academy Doran Racing Nissan 370Z!" Hammann said. "Last year at this same time I watched from Turn 6, not knowing that in a year, through Nissan's GT Academy program, I would get to race alongside some of the best racing drivers in the country on one of the most historic tracks in the world!
"Road America has played such an instrumental role in my racing journey, beginning with parade laps with my dad at age 4, moving onto winning numerous karting championships at the Blain's Farm and Fleet Motorplex, to racing regional club races on the 4-mile circuit," Hammann continued. "Just being able to race at the track I grew up spending so much time at is a dream come true!
"My family has owned Cal and Gus Motors in Elkhart Lake from its very beginning in 1934, and with that long existence comes many pictures of races and events held in the village before the circuit was built, and even some as the circuit was being built," he said. "I definitely feel like I am racing in my backyard, and I hope that all those days watching races and driving laps will give me some hometown advantage!
"Cliff Tufte did such a great job designing the circuit in the early fifties, and I cannot wait to get the 370Z on track, showcasing its performance that Nissan 370Z and GT-R owners have grown to understand.
"I know from discussing with B.J. and Bryan [Heitkotter, another Doran Racing driver who now competes in Pirelli World Challenge] as well as seeing firsthand that the 370Z performs well on circuits with long straights and heavy braking zones, and I look forward to capitalizing on the car's strengths this weekend.
"I am very excited to have loads of family and friends at the event sharing this great experience!" he continued. "Also with attending school in Kiel, a few miles north, I look forward to getting classmates and friends to Road America that have never been to the world-renown course!
"I hope that both the #41 and #14 can get great results, and I really look forward to learning a lot from B.J., Brad and Steve throughout the entire weekend as I get more and more comfortable with the car, being only my second race! Kevin [Doran, the team owner] and the entire Doran team do such a great job, and I look forward to working with them throughout the entire weekend! I definitely know restaurants in the area and I will do my best to make sure the entire team enjoys their time in Elkhart Lake, even if that means giving up my own bed for the hard-working Ohio-based team members!
"From a child on the slow side of the fence with a big dream, to racing the #41 GT Academy Nissan 370Z, anything is possible," he concluded. "It's all thanks to GT Academy and Nissan, and I hope that we both can get incredible results for Doran Racing!"
Doherty has similar high hopes.
"This race is the one on the calendar I look forward to most," he said. "Growing up only 20 minutes from the Wisconsin border, if there is any race that's a home race for me, this is it.
"I started my racing career less than two hours away at Lake Geneva Raceway, an oval track in southern Wisconsin," Doherty said. "The division was the 'bic' class, which is basically pure stock, front-wheel-drive racing.
"Road America was also the place where I was able to capture my first overall professional win when I won the TC class last year in Pirelli World Challenge!" he noted. "It's always a great place for me to race, as I have a lot of friends and family that come to watch.
"The Nissan 370Z has been strong there in the past, landing on the pole in 2013," he pointed out. "If we get some long green-flag running, we should be in the hunt for a win!
"This will also be Nic's first big home race, so we will be going 100 percent for the win! That will require some celebrating at the infamous Siebken's Tavern with the guys from Nissan and friends and family of course!"
The action gets underway with practice sessions at 9 a.m. and 11:30 a.m. Eastern time on Friday before qualifying for the Grand Sport class is held at 4:40 p.m. Eastern that same day. Saturday's 2.5-hour race starts at 1:20 p.m. Eastern. It will be carried live on IMSA.com and also broadcast from 8 p.m. to 10 p.m. Eastern time on Monday, Aug. 17 on Fox Sports 1.
Additional information is available on DoranRacing.com and the team's Facebook page.
For more information about the series, see imsa.com.
For more information on Doran Racing, see DoranRacing.com.
The team also has a Facebook page.