Doran Racing Nissan 370Zs Finish Second
and Fourth In Road America Thriller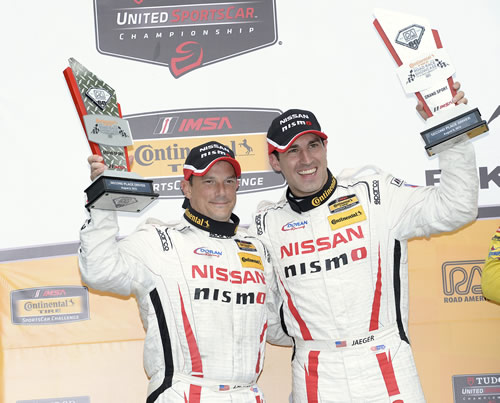 ELKHART LAKE, Wis., Aug. 9 — The Doran Racing Nissan 370Z #14 of Brad Jaeger and B.J. Zacharias posted its best result of the season Saturday afternoon when it finished second in the Continental Tire SportsCar Challenge race at Road America, just 0.314 of a second behind the winning Porsche of brothers Hugh and Matt Plumb after 2.5 hours of competition. It was the #14's fourth podium finish in the seven races held so far this year.
A similar Nissan 370Z fielded by the Lebanon, Ohio-based team that was driven by Nissan GT Academy champions Nic Hammann and Steven Doherty finished a strong fourth in the thriller. That was also that entry's best finish of the season, and its second top-five finish so far this year.
Zacharias, of Cincinnati, set a new track record when he posted the fastest lap of the race with a 2:22.827 on lap 52 of the 57-lap race on the 4.048-mile, 14-turn road course. That was 0.550 of a second faster than the second-fastest lap of the race, which was posted by the winning Porsche on lap 40 while its driver, Matt Plumb, tried to hold Zacharias off. Lapped traffic on the last lap gave Zacharias one last chance, but he raced Plumb clean and lifted rather than cause a crash.
The two Doran Racing Nissan 370Zs and the winning Porsche were the only cars to lead the race, and three of the four Doran Racing drivers led. The #14 led twice for nine laps, and Hammann and Doherty's #41 led once for 11 laps. The pace was torrid, as there were only two full-course cautions to retrieve cars that had gotten off course, and they took three laps each.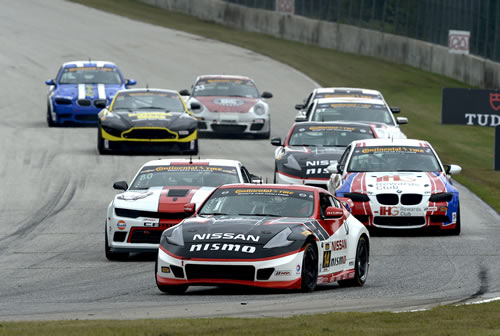 Qualifications were rained out, so Jaeger, of Charlottesville, Va., started sixth in the #14. He passed both Scott Maxwell and Matt Bell working lap three to rise to fourth, and two laps later he took third by passing Andrew Davis in Turn 1. He rose to second working lap seven by passing Jade Buford going into Turn 8.
Hugh Plumb's 9.466-second advantage over Jaeger was wiped out by the first full-course caution on lap 14 after the hood came up on Ramin Abdolvahabi's Mini. Several of the top contenders pitted under that yellow but Jaeger stayed out, and the #14 was shown as the leader for the first time on lap 15. Following the restart Jaeger withstood every challenge the second-place driver, Maxwell, could think of, and he pitted as the leader on lap 22 under green with one-hour gone and the car still in great shape.
Zacharias started his stint in 15th place overall in the 41-car field and ninth in the top class, Grand Sport. He'd passed all the Street Tuner cars by lap 27 to rise to ninth overall and ninth in class, but he was 52 seconds behind eighth place at the halfway point on lap 28. He'd cut that to 30 seconds when some of his rivals pitted on laps 37-39, and all of a sudden that interval didn't matter because he was second on lap 39 due to those pit stops. The leader was none other than the driver of his sister car, Hammann.
Hammann pitted on lap 40, which gave Zacharias the lead. A few minutes later the engine blew in Lawson Aschenbach's Camaro, which brought out the second and final full-course caution flag on lap 42. Zacharias pitted for fuel and tires as the leader under that yellow on lap 43 with 33 minutes to go, which gave the lead to the Porsche that eventually won and put Zacharias back in ninth place for the restart on lap 45.
Zacharias passed Kyle Marcelli for eighth on lap 46 with 23 minutes to go. The following lap was nothing short of stellar, as he rose from eighth to fourth by passing Robin Liddell, Austin Cindric and Charles Espenlaub in 2:23.011, which was his fastest lap of the race at that point.
Doherty was now behind the wheel of the sister car, the #41, which isn't running for the championship, and Zacharias passed him for third on lap 48. He got second on the next lap by passing Trent Hindman. That left him 2.409 seconds behind the leader, Matt Plumb, with 16 minutes remaining in the race. Hindman passed him back working lap 50 but Zacharias got the better of Hindman again working lap 51 and once again zeroed in on Matt Plumb.
Zacharias set his new track record on lap 52 with 10 minutes left in the race. Plumb was 2.189 seconds ahead of him and Hindman was already 1.365 seconds behind him. Zacharias was consistently faster than Plumb in the waning laps and the top two were nose to tail several times before the checkered dropped on Plumb just 0.314 of a second before Zacharias crossed the line.
Team owner Kevin Doran used a different pit strategy for the #41 car driven by Hammann, a hometown hero from Elkhart Lake, and Doherty, of nearby Plainfield, Ill. Both are rookies. Hammann was making only his second start in the series and with Doran Racing and he got a workout, as he basically did a double stint before the car made its first pit stop and Doherty took over. Both young men drove like veterans, showcasing the success that Nissan has created with its GT Academy, which trains gamers to become real-life racers.
Hammann started 11th but he passed Nick Galante and Chris Beaufait on the first lap and Martin Barkey on the second lap to rise to eighth right away. He passed Maxwell for seventh working lap nine, and then got by Matt Bell on the next lap for sixth place. He pitted for the first time on lap 15 under the first full-course caution with 39 minutes gone, staying in the car and dropping to 12th place in class and 30th overall.
His next assignment was to make up that lost time and he responded like a champ. He usually passed one driver a lap, but he rose from tenth to seventh on lap 20 when he passed Matt Bell, Davis and Mark Boden with 56 minutes gone. He was back where he'd been before the pit stop by lap 21 when he passed Galante, and he moved into fifth place when Jaeger pitted as the leader.
Maxwell pitted on the next lap, which allowed Hammann to move into fourth, and he passed Buford for third working lap 24. He was running faster than anyone else on the track at that point as he pursued the second-place car and its driver, Ashley Freiberg. He passed her working lap 27 to move into second place, and at the halfway point he was just 1.146 seconds behind the leader, Hugh Plumb.
The hometown crowd went wild when Hammann passed Plumb for the lead working lap 30. Plumb pitted working lap 37, and Hammann had a huge, 34-second lead over the second-place car of Freiberg at that point. Hammann pitted as the leader on lap 40, right before the second and final full-course caution, giving the lead to Zacharias and turning the #41 over to Doherty.
After others made pit stops under that yellow, Doherty was in third place for the restart on lap 45. That didn't last long, however, as he passed Hindman for second right after the restart, drawing to just 1.473 seconds behind the leader, Matt Plumb. Hindman passed him back working lap 47 to put him in third and Zacharias passed him on the next lap to push him to fourth. He set his Nissan's fastest lap of the race on lap 54 with a 2:23.716, and brought the car safely home in that position three laps later. He was only 0.691 of a second behind the third-place finisher, Hindman, and a whopping 12.269 seconds ahead of the fifth-place car driven by Liddell.
The race was carried live on IMSA.com. It will also be broadcast on Fox Sports 1 on Monday, Aug. 17 from 8 p.m. to 10 p.m.
The next event is Aug. 22-23 at VIRginia International Raceway in Alton, Va.
Additional information is available on DoranRacing.com and the team's Facebook page.
Driver post-race quotes follow:
Brad Jaeger: "The team was firing on all cylinders. Our Nissans 370Z was great right off the truck, and the pit stops were flawless. With the strategy that B.J. and I ran, they pulled it off. We got fresh tires and B.J. ran to the end and we got another podium. They did an unbelievable job; I thought both cars were going to be on the podium. Three out of our four drivers were able to lead the race at one point or the other.
"I had one close call when I was passing one guy down the straight after Turn 3. He hit me and pushed me off in the grass, but I got back on course and I got by him later.
"Then I was three wide once when I was passing a Camaro and a Mustang.
"After I got by the Rum Bum car and into second I just sort of ran my pace. I ran clean, consistent laps so I'd have a good car to turn over to B.J. I inherited the lead, but after that we pulled away from everyone until we had to come in for the pit stop.
"It was a great day!"
B.J. Zacharias: "Awesome job today by the entire team. Brad had an amazing stint and drove very smart. He handed me a great car.
"Kevin Doran made some great calls that put us in position with four new Continental tires at the end. The crew pulled off two amazing pit stops today, and I'm just proud of everyone.
"I want to thank everyone at Nissan Motorsports, and especially Rick Kulach for believing in this program.
"It was a good day and another solid podium.
"At the end I just put my head down. The new tires took about a lap to really come on. Once they did, I just tried to drive a clean stint and was focused on the 13 car.
"It was another classic finish in one of the best series in all of North America. On to the next one!"
Nick Hammann: "What a weekend! I enjoyed every bit of it!
"After the start I was able to settle in, and when the first caution came out I was able to pit for tires and fuel. After the restart I was able to drive the Doran Racing GT Academy 370Z to the lead. Leading the race at my home track with so many family and friends watching was a dream come true!
"I then pitted and Steve got in the car. He did a great job and was able to bring the #41 home fourth. Everyone on the team did an awesome job, and I enjoyed my home race experience!
"Thank you to everyone at Doran Racing and Nissan for giving me this great opportunity! Steve, B.J. and Brad helped me throughout the weekend and got me up to speed really quick at my home track. I went from watching from Turn 6 to leading the race! It was a dream come true thanks to Nissan and GT Academy! On to VIR in two weeks!"
Steven Doherty: "What a race! We were finally able to run up front with the guys! I had a great battle with the BMW for most of the stint. We switched positions several times, but ended up finishing just behind him in fourth.
"I'm slightly disappointed that we weren't able to get a podium for the hometown crowd, but a fourth place and a car in one piece is always a great day.
"Thanks to the team for a fantastic car. We just needed one more spot for that double podium!
"Congrats to Brad and B.J. for another strong finish! I'm glad to see them with another consecutive podium!"
For more information about the series, see imsa.com.
For more information on Doran Racing, see DoranRacing.com.
The team also has a Facebook page.