Doran Racing Dominates at VIR
But Comes Up Just 2 Minutes Short
When Rolling the Dice on Fuel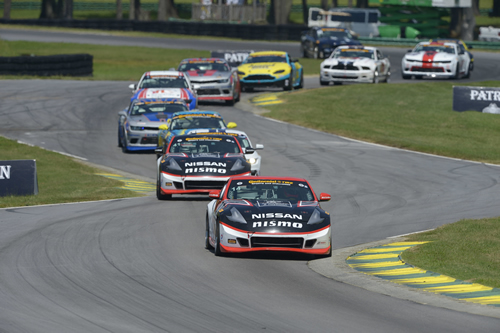 ALTON, Va., Aug. 22 — The Doran Racing Nissan 370Z #14 of Brad Jaeger and B.J. Zacharias led half of Saturday's Continental Tire SportsCar Challenge race at VIRginia International Raceway, but the team didn't get the results they wanted when the two-and-a-half-hour race was decided by fuel mileage. There were no full-course cautions for 30 laps when the team needed one to save fuel, and although it had the two fastest cars in the 66-lap race it ended up just 2 minutes/two laps short of a victory.
Earlier this month the Lebanon, Ohio-based team recorded its best finishes of the season so far with a second and fourth at Road America, but its Nissan 370Zs were even more impressive Saturday at VIR. The team's finishing positions of eighth and tenth in class at VIR certainly don't reflect how dominant the team was here.
Jaeger, of Charlottesville, Va., set a new track record in winning the pole on Friday, with the team's sister car driven by Nic Hammann of Elkhart Lake, Wis., only 0.297 of a second behind to earn the second starting spot. Jaeger set the fastest lap of Saturday's race too, with Hammann second-fastest again in the race.
Jaeger led most of his stint and he was still leading when he made his second pit stop under yellow on lap 32 with 1:11 remaining for four fresh tires, fuel, and for Zacharias to take over.
Zacharias, of Cincinnati, was able to lead the race too even though he was trying to save fuel the rest of the way to avoid a third pit stop. The strategy almost worked, but the race was uncharacteristically clean. Although two cars spun later there were no more full-course caution-flag laps to slow the pace, and Zacharias ran out of gas two laps from the end while leading. He brought out the fourth and final caution flag, and ended up eighth in class at the finish.
The #14 led the most laps by far, as it was in front for 33 laps of the 66-lap race. The Aston Martin of Al Carter and Brett Sandberg led 19 laps but it didn't have enough fuel at the end either, and plummeted from second to seventh at the finish.
Earlier in the event Hammann was embroiled in a torrid battle and had just passed Ashley Freiberg for third place in the team's #41 Nissan 370Z when he crashed with 29 laps complete. He drove the car back to the pits with a raised hood and too much front-end damage to continue. His co-driver, Nick McMillen of Salem, Ore., was left on the sidelines and the #41 was scored tenth in class in the final rundown.
Things started out extremely well. Jaeger was already 1.394 seconds ahead of the second-place car of Jade Buford the first time he crossed the timing lights at the 17-turn, 3.27-mile road course. He set the fastest lap of the race on lap five with a 1:59.662.
Hammann dropped back from second to fourth initially, but he set the second-fastest lap of the race on lap two with a 1:59.723 even though he's a rookie who was competing in only his third race in this series and his first race at VIR. He was back in third on lap three, but made a mistake on the next lap and dropped to eighth. He had battled his way back up to third before his accident.
Jaeger was able to keep the lead in the early going even though Jade Buford was trying his hardest to catch him. Jaeger dropped to third when he made his first pit stop for fuel and left-side tires under the second full-course caution from laps 14 to 16, but he passed Carter for second working lap 20 and Matt Bell to regain the lead on lap 22.
Shortly thereafter there was an added challenge after Nick Galante's car spilled fluid on the track. Jaeger was still leading when Hammann's accident occurred, and he made his second and final pit stop under that yellow on lap 32 as the leader.
Zacharias started his stint in fourth place. He passed Matt Plumb for third immediately after the restart on lap 35, and he got second by passing Lawson Aschenbach four laps later. He put the #14 back in the lead working lap 44 by passing Sandberg, although he was already in fuel-conservation mode.
Sandberg got him back working lap 47 but Zacharias stayed in second, less than a second behind, until Sandberg's advantage increased to a little more than a second around lap 53. He drew to just 0.3 of a second behind Sandberg on lap 56 with 19 minutes to go when the third-place driver, Trent Hindman, started to pressure him a bit. Zacharias appeared to take the lead from Sandberg at will working lap 59 when a Mini went off course with 14 minutes remaining and he thought it might require a full-course caution.
It didn't, but some competitors made pit stops for a splash of fuel at that point. The team gambled that they'd be able to go the distance, but Zacharias stopped on the course, out of fuel, with a 1.391-second lead on lap 64. That brought out the fourth and final caution flag and handed the victory to a Porsche 911. To make the finish even more bizarre, a Porsche Cayman lost a wheel simultaneously, which could have given Zacharias the full-course caution to save fuel if it had occurred just a little bit earlier.
The #14 has had four podium finishes in the last six races, and it now heads to Circuit of the Americas in Austin, Texas on Sept. 18-19. The season finale is Oct. 2-3 at Road Atlanta in Braselton, Ga.
Saturday's race was streamed live on IMSA.com. It will also be shown on a tape-delayed basis from 9 a.m. to 11 a.m. Eastern on Sunday, Sept. 6 on Fox Sports 1.
Additional information is available on DoranRacing.com and the team's Facebook page.
Driver post-race quotes follow:
Brad Jaeger: "It was a heartbreaker. We were out front a lot. Doran Racing did a great job with the pit stops. We rolled the dice. All we needed was one yellow in the last hour and 10 minutes, but the cards didn't fall our way and we didn't get it.
"It was weird when there were fluids on the track. It wasn't that slippery, but in some places there was oil. I slowed my pace down and just tried not to have any incidents. For some reason on the last turn I couldn't get power down as well as other places on the track. The Rum Bum car could get close to me there, but I was able to stay in the lead and keep ahead of him.
"There's a very small dent in our front bumper when an Aston Martin brake-checked me, but other than that our car is in one piece. It was just one of those things.
"Hopefully things will fall our way in the remaining two races of the year, and we'll be able to move up in the championship.
"It was a great weekend up until the last two minutes."
B.J. Zacharias: "I don't even know what to say, but that's racing, and we will be back.
"We were so close. It's so disappointing. The last lap when I came down the hill I should have listened to my gut and come in for a splash of fuel. It didn't make it, but we tried. This one is going to hurt for a while. I don't know what this does to us in points. Maybe we're still in third, or at least in contention for third. But this one was a hard one to swallow. I'm at a total loss for words. I was at a race here a few years ago with Bryan Heitkotter where it seemed like we just drove around under yellow for most of the race.
"Brad had a great stint again, and by far one of the best qualifying runs ever. He needed that, and it was cool. We've won poles and we've won practice; now we just need to win a race.
"I think the hardest race to win sometimes is the one you're supposed to win. But you just have to play the cards you're dealt, and go with it."
Nic Hammann: "It was a frustrating and disappointing end to the weekend. Everyone on the GT Academy Doran Racing Nissan 370Z team did an outstanding job all weekend long, and I wish we could have gotten the results to show for it.
"I learned a lot this weekend, and the mistakes I made in the race I learned from, and we'll move forward.
"Thank you to Brad, B.J., and Nick for all their help all weekend long. Coming to VIR with no experience at the track, those guys helped me immensely to get up to speed.
"Kevin and the team did a great job setting the cars up, and I cannot wait to get on track at COTA.
"Racing at the track where Nissan is the official automaker was really special, and I am really excited to get back in the car as we look forward to COTA."
For more information about the series, see imsa.com.
For more information on Doran Racing, see DoranRacing.com.
The team also has a Facebook page.