Doran Racing Nissan 370Zs Finish Third and Fourth at COTA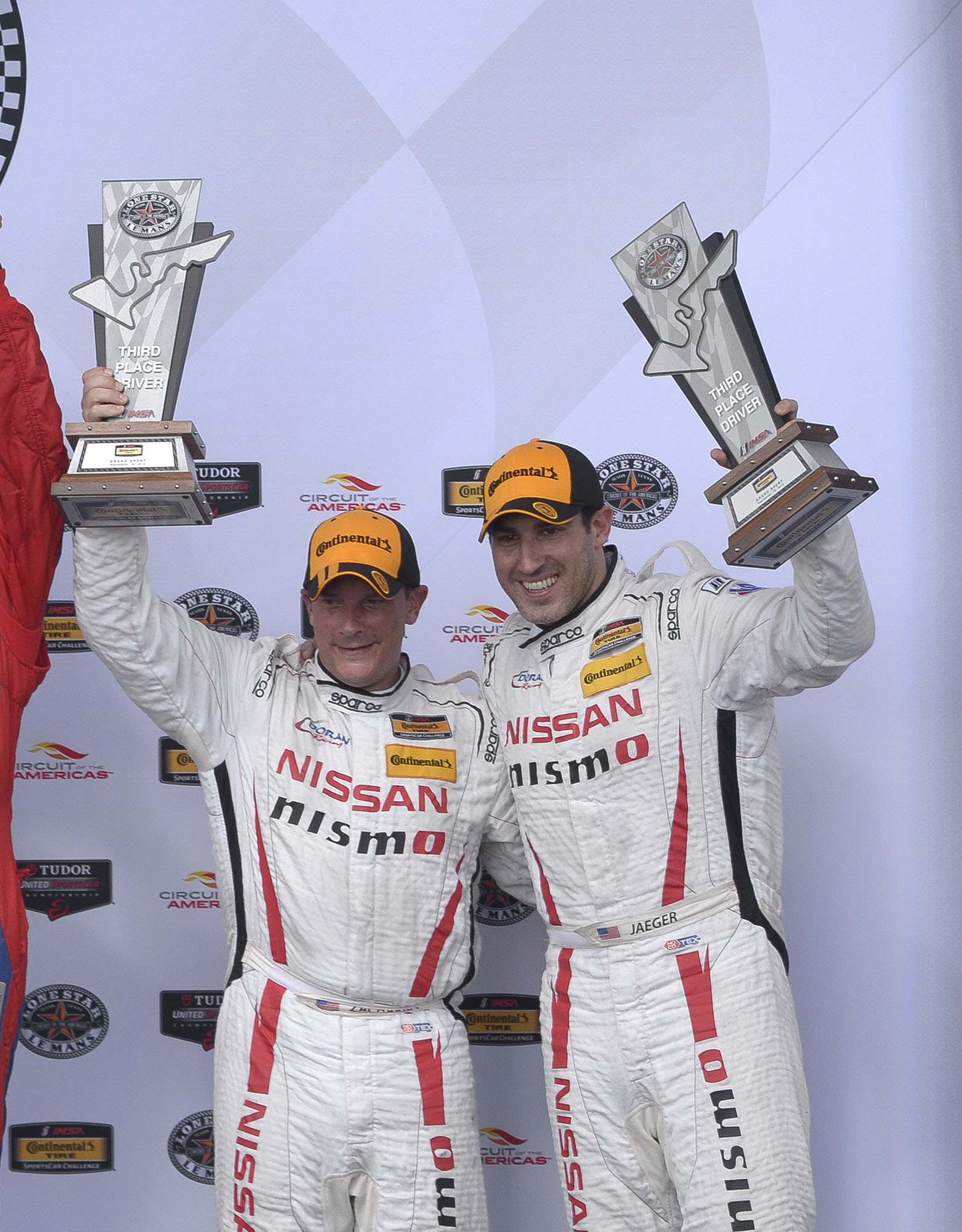 AUSTIN, Texas, Sept. 19 — Doran Racing's two Nissan 370Zs started third and fourth in Friday's Continental Tire SportsCar Challenge race and they finished in those same spots, although they did switch places before they took the checkered flag after 57 laps of competition under the hot Texas sun at Circuit of the Americas.
The Lebanon, Ohio-based team's #14 driven by Brad Jaeger and B.J. Zacharias posted its fifth podium finish in the last seven races with a third-place finish. The excellent showing also unofficially vaulted the entry, its drivers and Nissan to third place in the Grand Sport team, driver and manufacturer point standings, respectively.
Meanwhile, the team's #41 driven by Nic Hammann and Nick McMillen led a lap, set the third-fastest lap of the race, and duplicated its best finish of the season with a fourth-place finish.
Jaeger, of Charlottesville, Va., and Zacharias, of Cincinnati, entered the event fourth in the GS point standings, four points out of third. Unofficially they'll go to the season finale at Road Atlanta on Oct. 2-3 in third place, 18 points out of second and three points ahead of four drivers tied for fourth place. A total of 35 points will be up for grabs.
The two biggest factors that affected the #14's race occurred working laps 41 and 42 with about 36 and 38 minutes to go in the 2.5-hour contest. Zacharias was sixth on lap 40, just 0.033 behind Lawson Aschenbach and embroiled in a fierce battle for fifth.
Aschenbach hit Zacharias working lap 41, which knocked Zacharias back to 11th and later drew a penalty on Aschenbach for avoidable contact that put his Camaro out of contention for a podium finish.
Working lap 42 a belt snapped in the Porsche that was fourth, leaving its driver, Matt Plumb, on the side of the course and steam pouring out of its radiator. These two incidents affected not only the race but also the championship, because Aschenbach and his co-driver were third in points going into COTA, and although the Plumb brothers are still second in the points, the #14 made ground on them since it went on to finish third and the Plumbs ended up 14th on Friday despite having the fastest car in the race.
Zacharias didn't stay in 11th place for long. He was back in the top 10 by lap 42 with Plumb's departure, and he passed Mark Wilkins, Ruben Pardo and Charles Espenlaub on the next lap to move into seventh. A lap later he had moved into fifth by lap 44 when he passed Jade Buford and Trent Hindman dropped from fourth to tenth. That put Zacharias right behind McMillen of Salem, Ore., in the team's other Nissan 370Z, who had steadily worked his way back up to fourth after dropping to 11th after that car's second pit stop. So, with a half-hour remaining the Nissans were back together again, with McMillen in fourth and Zacharias in fifth and both closing in on third.
On lap 46 of what turned out to be a 57-lap race Zacharias passed McMillen and Aschenbach served his penalty, which put Zacharias in third place and McMillen in fourth. They remained in those positions until the checkered.
Hammann started the #41 in third place and actually led the first lap. The 2014 Nissan GT Academy champion from Elkhart Lake, Wis. also set the third-fastest lap of the race on lap four with a 2:25.163. From laps two through six Hammann was third and Jaeger was fourth in the #14. On the following lap Jaeger passed Hammann and then they both passed Scott Maxwell, which put Jaeger in second and Hammann in third.
They ran in those positions and in that order until they made their pit stops for fuel, four fresh tires and the driver change under green working lap 21 with 52 minutes gone, right before the first of two full-course cautions waved after Nick Galante's Mustang got hit in the rear and stopped. The opening drivers both achieved their goals during their stints, as they turned their cars over to their co-drivers in good condition and very much in contention. Other contenders made their pit stops at that time, and Zacharias was fourth and McMillen was fifth for the restart on lap 26, 4 minutes shy of the halfway point.
Zacharias set the #14's fastest lap on lap 29 with a 2:25.410 while he was in fourth place. He was still in fourth place with 1 hour to go and McMillen was eighth when the second and final yellow waved on lap 34 so the tow truck crew could free David Murry's BMW from a gravel trap.
They both pitted for four fresh tires and fuel two laps later under that yellow. Zacharias was ninth and McMillen was 11th for the restart on lap 37 and their subsequent drives to third and fourth, respectively, despite the intense heat and intense competition.
Friday's race will be shown on Fox Sports 1 at 1:30 p.m. Eastern time on Sept. 27.
Additional information is available on DoranRacing.com, the team's Facebook page, and the sanctioning body's Web site at imsa.com.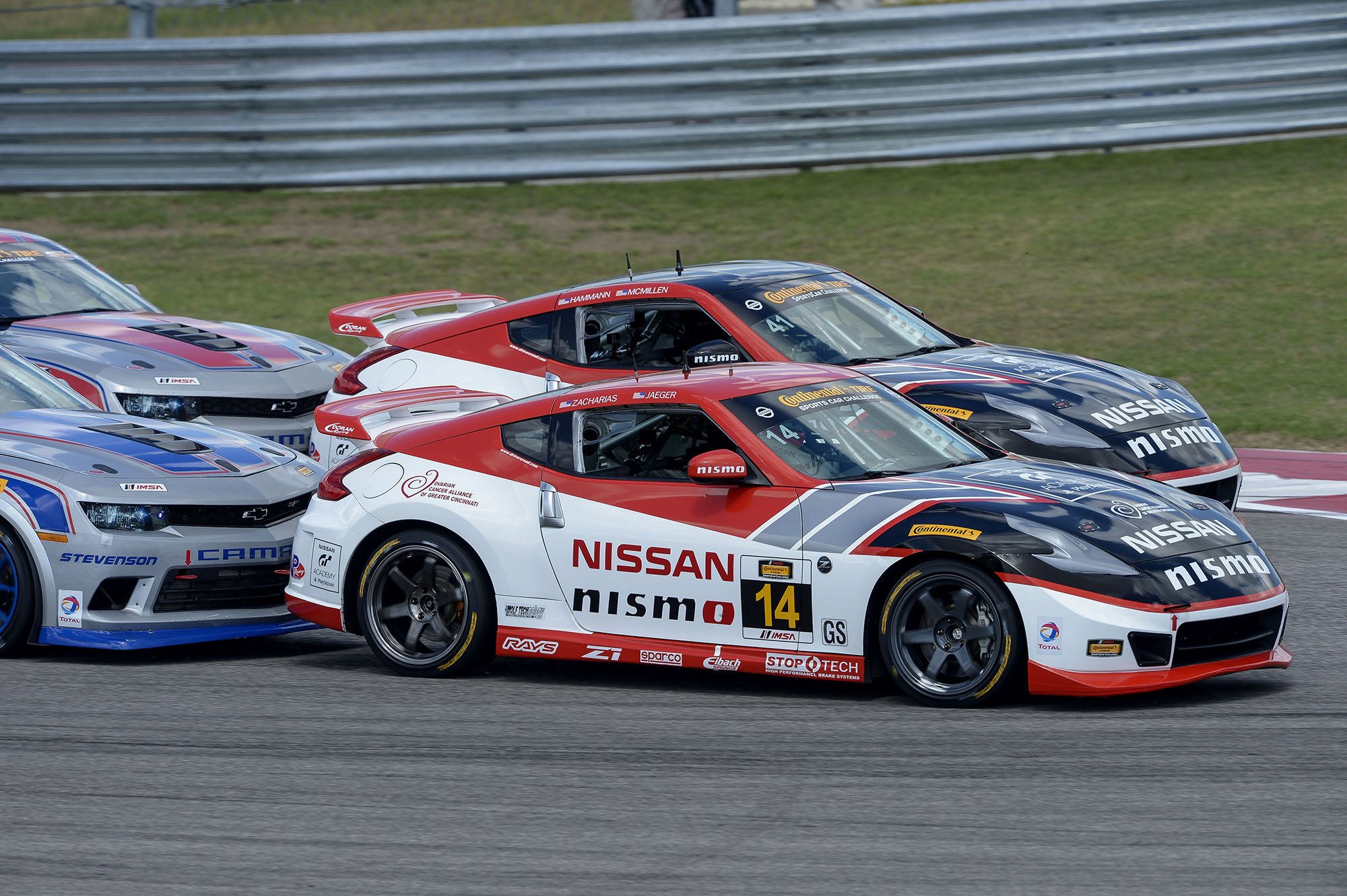 Driver post-race quotes follow:
Brad Jaeger: "It was a great race; very hot though!
"My stint was great; it was exactly like I wanted it to be; consistent laps, run up front and keep it clean. Once I got around Nic Hammann and Scott Maxwell I was able to run in second, and from then on I just tried to run consistent laps and look after the tires. For me it was a perfect stint; no issues.
"Our pit stop was pretty decent. I think we had a shot at the win if it wasn't for the #9 spinning B.J. out. If feels like they took a win away from us, but still it was a good finish and a good points-earning day.
"As far as the championship goes, this is sort of a dream scenario. The #9 was penalized, and the Rum Bum Porsche had a DNF. You never want to see anyone have a DNF, but it moved us up.
"Doran Racing was great with pit stops and support; the Nissan was flawless; it really held up. We were able to have quick laps, and overall it was just a great effort."
B.J. Zacharias: "I am tired! All in all that was a pretty good performance by everybody. We got spun but battled back and we got third. The guys in the 41 were fourth, so that's really good results for our team. I think everybody is really excited, and we'll go to Road Atlanta and see what we can do there.
"Once again Brad had another great opening stint. Overall it was a good, solid performance by everyone, but it was also probably one of the hottest races I've ever done.
"I'm not sure but I think the spin was in Turn 15. We had gone side by side for a while, but then he just drove straight in the back of me. It bent in the exhaust and put a dent in the fuel cell. It was a solid hit, but it was a slow enough turn that other cars didn't get involved.
"Towards the end I was making up some ground, but with about three laps to go I hit traffic in two or three of the worst places to hit traffic. I realized I wasn't going to close that gap, so at that point I just wanted to bring it home. It was extremely hot, but we did OK. With 20 laps remaining when we were back in P11 it wasn't looking that great, so it's all good.
"The car wasn't that bad after the spin. I probably used up the rear tires though, because it spun pretty good. I'm sure that didn't help. But the good thing was I didn't get collected by anyone else, and the officials did their job. Kudos to them for standing on their ground and doing what they said they were going to do."
Nic Hammann: "Finishing fourth in the GT Academy Doran Racing Nissan 370Z was a great result, and racing at Circuit of the Americas was one race I will remember for a long time. I really enjoyed racing with my family at the race and I hope they enjoyed the entire experience!
"Turn 1, at the start, worked out perfectly for our #41 Nissan. It was like the seas parted and I was able to get in the lead. I then tried running a smooth, consistent pace, and I was shuffled back to third. I was able to get by the #15 Mustang going down the backstraight, and after Brad passed me I was able to settle in and just crank off laps.
"Kevin and the team did a great job on the car setup, and the Nissan handled great throughout my stint.
"Nick did a great job finishing the race strong, and I am glad we were able to bring the 370Z home fourth.
"I can't thank B.J. and Brad enough for all their help getting me up to speed on the track, and I'm glad they were able to get a podium finish.
"I really enjoyed talking with all Nissan owners on the grid walk. I know they enjoyed watching the 370Z on the track, especially since we brought the cars home third and fourth.
"I am very excited for Road Atlanta and hope we can end the season strong with both cars on the podium!
"Big thank you to the entire Doran team and Nissan for giving me these great opportunities. I am learning and enjoying each and every one of them!"
Nick McMillen: "It was definitely one of the hottest races I've ever done. It was a little rough in the last laps, but we kept pushing. The car started to get a little loose and I didn't realize fifth place was as close to me as he was. I was just trying to conserve my energy and minimize mistakes. My goal was to try to not do anything dramatic and hold on to the position.
"I thought I had a good race for the most part. Doran Racing did a great job to set our cars up for long stints. I just wanted to keep pushing and stay with the field, and let the heavier cars have problems with tire wear.
"On the last restart I was able to make up some spots. B.J. got spun, and some drivers were driving dirty. Above all, I wanted to stay out of trouble and finish. Since Brad and B.J. are running for the points, once B.J. got by me I just tried to run a good pace and maintain my position.
"This is my last race of the year as far as I know. The whole experience has been fun, and working with Doran Racing has been great. I appreciate everything that the team, Nissan and the GT Academy have done for me, and I hope to be back next year!"
For more information about the series, see imsa.com.
For more information on Doran Racing, see DoranRacing.com.
The team also has a Facebook page.