Nissan GT Academy Stars
Bounce Back for Seventh
In #41 Doran Racing Nissan 370Z at Road Atlanta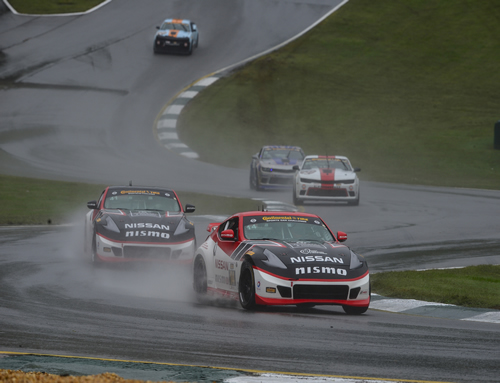 BRASELTON, Ga., Oct. 2 — The Doran Racing Nissan 370Z #41 of Nissan GT Academy champions Nic Hammann and Steven Doherty posted the second-fastest lap of the race and battled back from early challenges to finish seventh in a very wet Continental Tire SportsCar Challenge season finale Friday afternoon at Road Atlanta.
Unfortunately the team's #14 Nissan 370Z driven by Brad Jaeger and B.J. Zacharias didn't finish. It ended up 13th in the Grand Sport class after it sustained damage to its right rear, its suspension and its exhaust system in an accident with 41 laps complete in what turned out to be a 77-lap race.
The accident occurred when Jaeger got a "wave-around" lap that would have given him much better track position, but he hit some standing water in Turns 10A and 10B while catching the field at speed, hydroplaned and crashed into a concrete barrier. He was able to get back to the pits without the use of a tow truck. The team made some repairs on pit lane and Zacharias got in. The Cincinnati-based driver completed a couple more laps before the entry was retired with 45 laps completed.
The #14 had been third in the point standings going into the race, but unofficially it dropped to fifth with the DNF. It was only the second race it didn't finish in a year that saw it earn podium finishes in half of the 10 events, as well as three additional top-10 finishes.
The #41 unofficially was ninth in the final point standings.
Both cars started on slick tires, but unfortunately the rain increased rather than decreased shortly after the start. Jaeger, of Charlottesville, Va., started third but dropped to eighth at the start. Hammann, of Elkhart Lake, Wis., started ninth but he fell to 12th before the first of four full-course cautions waved on lap two to tow in Kevin O'Keefe's stranded Porsche Cayman.
Both Nissans pitted at that point for rain tires, which put them down a lap and deep in the ST field. On lap 12, with 2:07 remaining in the 2:30 race, Jaeger was 22nd overall and 11th in class while Hammann was 35th overall and 14th in class.
The rain tires certainly helped though. Hammann set the #41's fastest lap of the race and the second-fastest lap posted by anyone on lap 28 with a time of 1:42.374 for the 2.54-mile, 12-turn road course. Jaeger's fastest lap in the #14 came four laps later when he turned a 1:43.523.
Hammann got back on the lead lap right before pitting under yellow for Doherty to take over the #41 with one hour remaining. The Plainfield, Ill.-based driver was 12th overall and 12th in class, but he was on the lead lap and raring to go at the restart on lap 44.
He passed Matt Plumb for 11th place on lap 48, and he passed Nick Galante to move into the top 10 working lap 56 with 40 minutes remaining.
He passed Rene Villeneuve for ninth just before the fourth full-course caution waved on lap 61 with 31 minutes remaining for separate incidents involving Brent Mosing and Eric Foss.
He was ready for the restart on lap 64 with 20 minutes remaining, and passed both David Levine and Lawson Aschenbach to move into seventh place. After that he chased Austin Cindric, who was driving the Ford Shelby that dominated the middle portion of the race, until the checkered waved. It flew along with a fifth yellow after Nico Rondet rolled his Audi in Turn 1 at the finish. He wasn't hurt.
With the 2015 season complete, the team will now focus on getting ready for the Roar before the Rolex 24 Jan. 8-10 and the BMW Performance 200 Jan. 28-29 at Daytona International Speedway in Daytona Beach, Fla.
Friday's race will be broadcast on Fox Sports 1 from 9 a.m. to 11 a.m. Eastern time on Sunday, Oct. 18.
Additional information is available on DoranRacing.com and the team's Facebook page, as well as the series' Web site at imsa.com.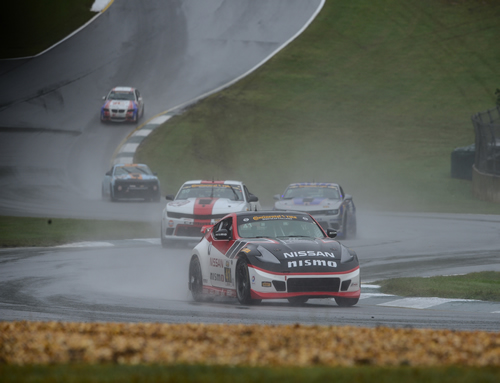 Post-race quotes follow:
Nic Hammann: "I want to thank everyone at Nissan USA and Doran Racing for giving me this great opportunity to drive the #41 GT Academy Nissan 370Z! I have learned and developed so much from my first race at Lime Rock in July, and I hope to work again with Doran Racing in the very near future.
"The race today was a wet one for sure. We started the race on slicks anticipating a dry line and race thereafter, but Mother Nature never cooperated. I made a mistake after coming onto pit road before it was opened and this cost us time on the track. Later I pitted for rains and after that I was in catch-up mode. I really enjoyed driving the Nissan in the rain. Kevin, Noah, and the rest of the team did a great job setting the car up, and I felt like we would have been battling for the lead if we only had the track position.
"I was able to get the wave by and got back on the lead lap before pitting. I handed the car off to Steve with around an hour to go on the lead lap and I knew he would push hard. Steve did a great job moving up positions and bringing the car home seventh.
"I really cannot thank B.J. and Brad enough for all their help all season long. They have been excellent coaches and always answered my questions even if they were sick of hearing them! I really wouldn't be where I am without them, and I hope they know how much I appreciate all their help and support!
"It was great seeing all the fans roughing out the weather, and I enjoyed speaking with Nissan fans on the grid walk as well. I wish we could have gotten them a podium finish, but I know they knew we were pushing hard!
"Again thank you to Kevin and the entire team at Doran Racing for all their help and hard work all weekend long. I really enjoyed working with the team the last few races and I hope to be back in the Doran Racing Nissan 370Z in the very near future!"
Steven Doherty: "Wow! What can I say! We took a gamble for the start of the race that didn't really pan out, as the storm started growing as it came in and arrived much sooner than anticipated! A slightly mis-timed pit stop entry also meant that we had a drive-through penalty that put us a lap down.
"Nic did a great job otherwise keeping the car on a wet track with slicks for the first few minutes! He was running good times and brought it home in good shape for me.
"At this time a river that had only formed under yellow-flag conditions had taken out our teammate. The same river almost took us out on my out lap! As I came down the hill and hit the river I also hydroplaned across the track, but I managed to keep in on the black stuff!
"We were able to get our lap back and make some moves on a restart and make it up to seventh by the end. It was a pretty good result for being a lap down! I had a ton of fun.
"I also can't forget to thank the entire Doran Racing team, Nissan USA and NISMO USA. Doran gave us very competitive cars and Nissan and GT Academy gave us a great opportunity to drive this year! I can't believe the season is over already! I'm looking forward to getting back in the seat already!"
Brad Jaeger: "We gambled and went with slicks, but then the rain got worse so we pitted for rain tires. When I got the wave around, I was pushing to try to hang with the Rum Bum car, and I wasn't expecting a river of standing water in the esses. I hydroplaned and went into a concrete barrier. I got back to the pits, but something was bent in the back; I don't know what. It's such a shame because the Nissan has been so strong. It's definitely tough.
"I want to thank everyone at Doran Racing and Nissan for an incredible season! We've had some amazing races, and it wouldn't have been possible without everyone's commitment, effort and support. Our race today ended too early, which I feel horrible about, but it was a rain race and we were pushing it to the limit.
"All in all this season has been unbelievable. I wish we could have ended 2015 on a better note, but I'm looking forward to building upon the momentum we had overall in 2015 as we go into Daytona!"
B.J. Zacharias: "I ran two laps; the car was evil so we parked it.
"The entire team did a great job this year, and I really did get lucky in the co-driver department. It just wasn't our day today. We win and lose as a team — all in it together. Special thank you to my co-driver and friend Brad Jaeger for a pretty darn good year in which we took the #14 to the podium in five of the last eight races.
"We will bounce back, and we're already looking forward to 2016. Thanks to Rick Kulach at Nissan for all the support through the year and the program."
For more information about the series, see imsa.com.
For more information on Doran Racing, see DoranRacing.com.
The team also has a Facebook page.