Swanson Wins Dave Steele Tribute
In Doran Racing Asphalt Sprint Car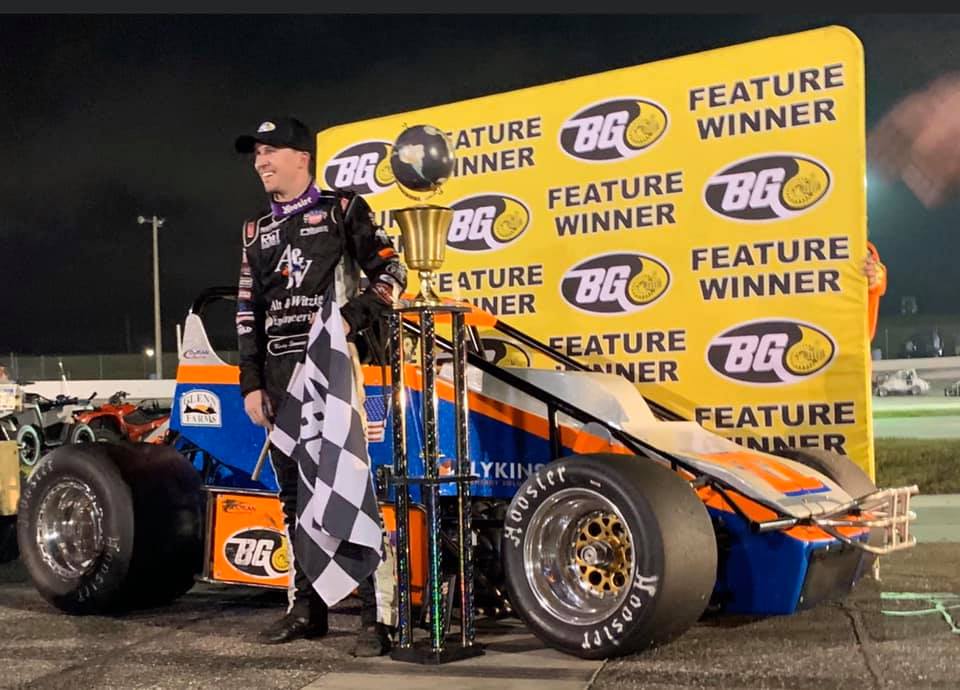 PINELLAS PARK, Fla., Feb. 22 — Doran Enterprises is famous for its winning ways in endurance sports car races at Daytona International Speedway and Sebring International Raceway in the state of Florida, but on Thursday night the versatile Lebanon, Ohio-based team was also victorious in the inaugural Dave Steele World Non-Wing Sprint Car Championship 125 at Showtime Speedway in Pinellas Park.
The blue and orange Doran Enterprises No. 77 Beast powered by a Bill Tranter-prepped Chevy V-6 engine and driven by Kody Swanson of Zionsville, Ind. was the class of the field. Although Swanson had never seen the track before, he topped the charts in qualifying with a time of 13.410 seconds in the car, which is sponsored by Glenn Farms of Woodland, Ga. He then won the 125-lap feature on the quarter-mile, semi-banked asphalt oval near St. Petersburg for the $5,000 top prize.
As the fastest qualifier Swanson was permitted to start on the inside or the outside of the front row. He chose the outside and led initially until Kyle O'Gara passed him.
Swanson bided his time, trying to save his tires and brakes. He passed O'Gara around lap 66 and had built up a small advantage over the field until that disappeared when a red flag flew on lap 84 to clean up spilled fluid on the track.
Bobby Santos III is often one of Swanson's main competitors in similar events, and he won the preliminary night feature. After starting fifth, Santos had also passed O'Gara before the red waved, and was right behind Swanson for the restart with 41 laps remaining.
But Swanson had a great restart, fought Santos off, maneuvered his way through lapped traffic, and even built up a 1.077-second margin over Santos at the checkered. O'Gara held on for third followed by Joe Ligouri and John Inman.
Thursday night's race honored the memory of Dave Steele, a National Sprint Car Hall of Fame driver who was killed in an asphalt sprint car accident March 25, 2017 at DeSoto Speedway in Bradenton, Fla. Swanson and Steele were friends and former teammates in midgets. Steele was a two-time USAC Silver Crown champion. Swanson is the winningest driver in USAC Silver Crown history with five championships.
In an earlier appearance with Doran Racing last fall at Daytona International Speedway, Swanson and Brad Jaeger won their class in a Doran Racing endurance sports car at Historic Sportscar Racing's Classic 24 Hour event.
For more information on Doran Racing, see DoranRacing.com.
The team also has a Facebook page.