Doran Racing's Swanson Wins
Carb Night Classic at Lucas Oil Raceway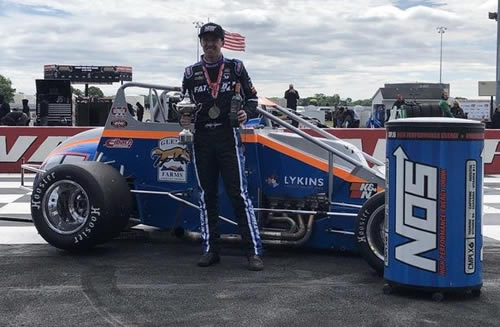 Photo credit: USAC
BROWNSBURG, Ind., May 31 — Kody Swanson only plans to compete in the asphalt USAC Silver Crown races this year, but he made the most of the opportunity by winning the series' season opener, the Carb Night Classic, Saturday morning at Lucas Oil Raceway in the Doran Racing No. 77.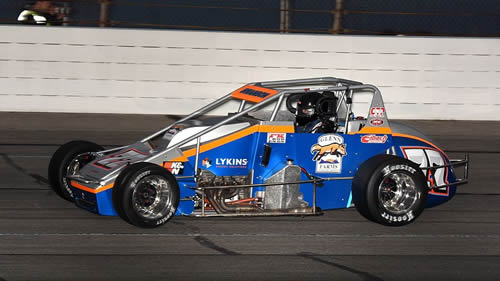 Photo credit: USAC
The 100-lap race on the 0.686-mile oval was postponed Friday night due to rain.
Swanson used lapped traffic to dive under his perennial rival, Bobby Santos III, coming out of Turn 4 on lap 64 to take the lead in the Doran Racing No. 77, which is sponsored by Glenn Farms and Lykins Energy Solutions and uses a Lanci-prepped Ford engine. He then drove away from the field to post a 4.219-second victory over Santos and collect the winner's purse of $10,000. David Byrne finished third in the event, which attracted the largest field for a pavement Silver Crown race in nearly a decade.
Swanson, the five-time series champion, and Doran Racing have worked together previously and won events in other series, but it was the first USAC Silver Crown race and the first series victory for the Lebanon, Ohio-based team famous for its accomplishments in sports car racing.
It was the 31st USAC Silver Crown victory for Swanson, a native of Kingsburg, Calif., who now lives in the Indianapolis area, as he increased his record as the series' winningest driver. He also became the first three-time USAC Silver Crown winner of this event, a pre-Indianapolis 500 staple.
On Friday night during Fatheadz Eyewear qualifying, Swanson qualified second to his younger brother, Tanner, by only 0.107 of a second, 20.714 seconds to 20.821 seconds. Tanner Swanson's car had suffered damage when he hit the wall earlier in the night, however, and although his team tried to make repairs he started Saturday's race four laps down, which put Kody Swanson on the pole for the start.
Swanson and Santos ran together for most of the first lap with Swanson on the inside and Santos on the outside, but Santos got the point as they came out of Turn 4 on the first lap. Justin Grant, the series' defending champion, ran in third place. The top three had pulled away from Byrne in fourth before a red flag flew when the car driven by Nathan Byrd rode the frontstretch wall, flipped, and landed on all four tires. Luckily Byrd climbed out and gave the thumbs' up signal.
Two laps after the restart Grant dipped under Swanson for second place, and he was still in that position on lap 16 when the first yellow flew for an accident involving Jake Day and Tanner Swanson. They escaped injury too.
That tightened up the field for the restart on lap 23, and with a quarter of the race done Swanson was still third, 0.583 behind the leader, Santos, but only 0.2 of a second behind Grant. He kept consistent pressure on Grant lap after lap until he powered under him in Turn 1 on lap 40 and then set his sights on Santos, who was 1.492 seconds ahead.
At the halfway point Santos' advantage was still 1.563 seconds, but Swanson had already put 2.324 seconds between himself and Grant and he was doing his best to zero in on Santos.
Six laps later he was only 0.8 of a second behind him, and by lap 60 he was just 0.223 seconds behind as the pair maneuvered through lapped traffic. Timing things perfectly, Swanson used that lapped traffic to help him pass Santos, getting under him in Turn 4 on lap 64. Then he was able to pull away, as he already had a lead of 1.033 seconds two laps later.
He had increased that to nearly 2 seconds when the second yellow flag flew on lap 73 after Kyle Robbins spun in Turn 2, which compressed the field and gave both Santos and Grant another shot at the restart on lap 77. But Swanson was up to the challenge, and had already rebuilt his lead to 1.141 seconds by lap 80. Byrne passed Grant for third on lap 84, but Swanson had a 1.865-second lead on the following lap when the third yellow waved when Robbins spun out again.
Once again Santos, Byrne, Grant and the rest of the field drew near to the rear of the Doran Racing No. 77 for the restart on lap 89, but Swanson fought them off. He was 2.115 seconds ahead of Santos by lap 94, 3.243 seconds ahead on lap 98, and a whopping 4.219 seconds ahead at the checkered flag.
"Lapped traffic is always on your side when you're in second place," Swanson said in victory lane. "Today I was just fortunate to see it [a way to pass] unfold. I'm just very thankful to get the win in my first Silver Crown race for Doran Racing. Bobby Santos and Grant had good cars, but my team didn't give up, and I knew with traffic and the track changing, we had a chance."
The event was streamed live by FloRacing.com.
Doran Racing's next USAC Silver Crown race is scheduled for June 25 at Madison International Speedway in Oregon, Wis. The other pavement-track dates on the series' schedule are July 22 at Winchester (Ind.) Speedway; Aug. 14 back at Lucas Oil Raceway, and Oct. 10 at Toledo (Ohio) Speedway. More information on the schedule is available at usacracing.com.
For more information on Doran Racing, see DoranRacing.com.
The team also has a Facebook page.