Doran Racing's Swanson Concludes Amazing Day
By Finishing Second in Pay Less Little 500
At Anderson Speedway Saturday Night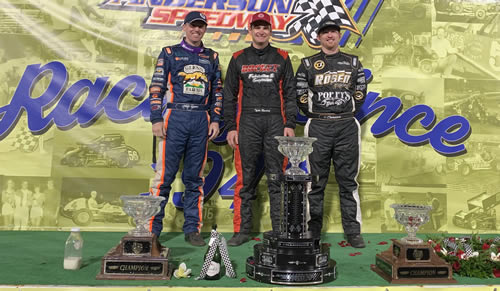 Photo credit: Anderson Speedway
ANDERSON, Ind., May 31 — Tony Stewart, Robby Gordon, Kurt Busch and the late John Andretti made headlines when they did the "Memorial Day Double," racing in both the Indianapolis 500 and the Coca Cola 600 on the same day. Stewart had the best results, finishing sixth at Indy and third at Charlotte 20 years ago.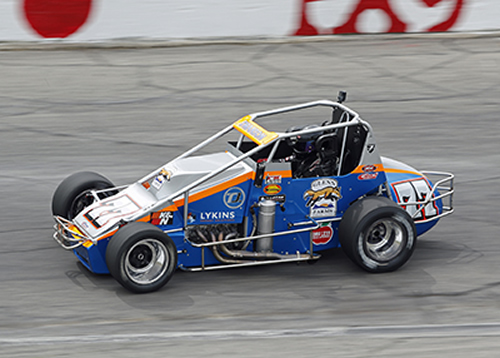 Photo credit: Anderson Speedway
On Saturday Kody Swanson did the "Memorial Day Triple." He didn't record quite as many laps as the others mentioned did. He was transported between two tracks not by aircraft, but in the family's SUV driven by his wife and spotter, Jordan. But he had better results than all of them while competing in three different race cars in three races in one day instead of just two, recording two wins and one runner-up finish.
In the morning he won the 100-lap USAC Silver Crown season opener at Lucas Oil Raceway (LOR). In the afternoon he won the 30-lap midget portion of the Carb Night Classic at the same track. And on Saturday night he finished second in the toughest asphalt sprint car race in the world, the 500-lap Pay Less Little 500 presented by UAW at Anderson Speedway.
In two of the three races he was driving for Doran Racing. He put a USAC Silver Crown car fielded by the Lebanon, Ohio-based team in victory lane at LOR, and then finished second, only 4.667 seconds behind Tyler Roahrig, in one of the team's asphalt sprint cars in the 73rd edition of Anderson Speedway's biggest race. In both cases the cars he drove were blue, number 77, Beast chassis and they were sponsored by Glenn Farms and Lykins Energy Solutions.
Swanson, a native of Kingsburg, Calif., now living in the Indianapolis area, won the Little 500 in 2016, 2018 and 2019 on Anderson's high-banked, quarter-mile oval.
On Thursday he earned his third consecutive pole for the race on CB Fabricating Pole Day with a total four-lap time of 44.497 seconds and an average of 11.124 seconds a lap with the Doran sprint car, which uses a Chevy engine prepped by Dan Binks.
On Saturday night he led the 33 starters assembled in rows of three to the green flag, and remained in the lead for the first 207 laps, holding off all comers despite a torrid pace. At first Caleb Armstrong was right behind him in second, but by lap 175 Roahrig was in the runner-up position.
On lap 189 Swanson became the eighth driver in Little 500 history to lead at last 1,000 laps. He achieved that mark in just seven starts in this race.
He had thing well in hand for over 200 laps, and only gave up the lead to Scott Hampton when he made his first pit stop on lap 208 for three fresh Hoosier tires and fuel, dropping to eighth due to the stop.
He advanced to seventh on lap 220 by passing Jerry Coons Jr., and sixth on lap 246 when he got by Brian Gerster. The latter gave him a great battle, and Swanson see-sawed between sixth and fifth until lap 293, when he moved into fourth place by passing Hampton.
He was back in third on lap 303 after Armstrong had an issue. That put him right behind his younger brother, Tanner Swanson, who was second, and the leader, Roahrig.
He remained third until lap 373, when he got second by passing his brother. At that point Roahrig was about 3.5 seconds ahead and the top three were the only drivers on the lead lap.
Swanson made his second and final pit stop for three fresh tires and fuel under a yellow on lap 386. That stop was excellent too, and he only dropped one spot to third place. Several other top runners pitted under that same yellow. Hampton had made his second pit stop about 78 laps earlier, so he was the leader followed by Roahrig, Kody Swanson and Tanner Swanson for the restart on lap 391.
Roahrig passed Hampton for the lead on lap 392 and led the rest of the way. Kody Swanson passed Hampton two laps later to regain second, setting the third-fastest lap of the race in the process with a time of 11.529 seconds.
Swanson stayed close to Roahrig initially, but then Roahrig was able to extend his lead to the finish. Only the top-three finishers of Roahrig and the Swanson brothers finished on the lead lap. Hampton and Armstrong rounded out the top five, and they were both four laps down.
There were 13 caution-flag periods during the race.
"We were second best tonight," Kody Swanson said afterwards. "We had a great car. It's a long race and a lot of things happened. Some things went our way and some didn't. We passed a lot of race cars and came home second."
Despite the physical test of endurance, Swanson said he felt fine afterwards. "I'm OK," he said. "I work out and stay in shape. I love long races. It helped that it was cool tonight, but there's still a lot of water in my water bottle.
"On that last pit stop we made a small adjustment. We thought it would make the car better, but for whatever reason it was worse for the last stint. But sometimes that happens in a race like this.
"We battled hard," he concluded. "I had at least four to six close calls, but that's just the way the Little 500 is.
"It was a good effort by everyone on the Doran Racing team, and I appreciate all their hard work."
The race was broadcast live on MAVTV Plus and it will air in a two-hour show on MAVTV on a yet-to-be-announced date.
For more information on Doran Racing, see DoranRacing.com.
The team also has a Facebook page.