Doran Racing's Swanson Wins
Glen Niebel Classic After Cat-and-Mouse Duel
Saturday at Anderson Speedway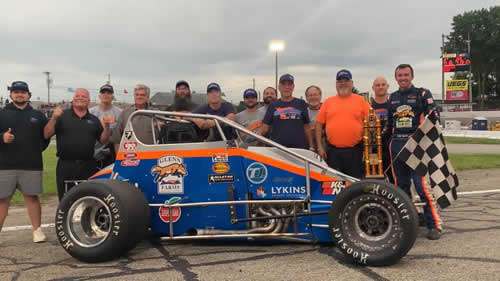 ANDERSON, Ind., July 12 — Doran Racing added the Glen Niebel Classic to its long list of races won after Kody Swanson drove the team's Glenn Farms No. 77 Beast/Binks asphalt sprint car to a hard-fought victory Saturday night at Anderson Speedway in the 20th edition of the CB Fabricating-sponsored race.
The final 61 laps of the 125-lap event on the quarter-mile, high-banked asphalt oval were a showcase of the talents of both Swanson and Tyler Roahrig, who finished second after winning this race the last three years. Lap after lap the pair ran 11-second laps inches apart, with Roahrig glued to the rear of Swanson's car in a display of both drivers' finesse, intense concentration, and ability to respond to changing conditions as their fuel loads lightened, the rubber wore off their tires, and the track conditions changed.
Weather was one of the factors that affected the changing track conditions. The start of the race was moved up due to intermittent sprinkles. The thunder roadsters race and the midget race supporting the Niebel Classic got in afterwards, although the midget race was shortened, and the Kenyon midget race that was supposed to end the night was canceled due to rain.
Roahrig tried high and low to pass Swanson to no avail, trying to pressure Swanson into making a mistake so he could get by. Swanson not only hit his marks and held off all of Roahrig's challenges, but he did so while they weaved in and out of lapped traffic. Swanson had a 0.262-second advantage at the checkered flag for his second victory in this particular marquee event, as he won it in 2018 for the late Gene Nolen, Niebel's best friend.
Swanson won the pole earlier in the evening with a time of 11.116 seconds, but he ran in fifth place from laps one through 18 because the invert gave the lead to Billy Wease. The top five early in the race were Wease, Chris Neuenschwander, Dakota Armstrong, Roahrig and Swanson.
Swanson, who is based in Indianapolis, passed Roahrig for fourth place on lap 19. He held fourth through lap 30, but then reverted back to fifth for two laps when Roahrig passed him back.
Roahrig got around Dakota Armstrong around the same time for third, and Swanson passed Armstrong on lap 33 for fourth. At that point the top five were Wease, Neuenschwander, Roahrig, Swanson and Dakota Armstrong.
Roahrig passed Neuenschwander for second on lap 35. Swanson dipped under Neuenschwander in Turn 3 for third on lap 48, and held third for the next 10 laps.
Swanson passed Roahrig for second place on lap 59 after a restart after the race's second caution flag, which was needed after Travis Welpott stopped in Turn 3. Swanson made this critical pass by dipping under Roahrig in Turn 1.
Swanson took the lead five laps later, on lap 64, when Wease dropped out with a reported issue with his car's suspension.
The rest of the race was the high-speed chess match between Swanson and Roahrig, with Swanson only one or two-tenths of a second ahead of Roahrig until the checkered. Although the top two positions remained constant there were changes to the remainder of the top five later, and trailing the top pair at the end were Caleb Armstrong, Bobby Santos III and Kyle O'Gara.
Swanson set the second-fastest lap of the race on lap 4 with a time of 11.470 seconds. Wease had the fastest race lap, which was a 11.448 on the same lap.
There were only three yellows: one on lap 41 that turned into a red flag due to rain, one from laps 56 through 58, and a final one on laps 95-97.
"The handling on our car was not good for the first 10 laps, but it got better," Swanson said afterwards. "The beauty of a long race is eventually everyone has something to deal with. You must manage what you have to make the most of opportunities to pass.
"It was very difficult to hold Tyler off, but it was really incredible to be able to race that hard and that clean. I admire him a lot for how he raced us. It was hard, but he didn't move us.
"Everyone was so close. Santos is always going to be there at the end, and Dakota and Caleb Armstrong ran really well. There were a bunch of good cars in this race. There was hard racing even early on. It was all nose-to-tail and fast. It was hard to get through without making a mistake. Honestly, this race might have been as hard as running the Little 500.
"It was an odd night though," he added. "After the red, the track was very different. I'm not sure why. It was hard to get a hold of, for sure."
Swanson also was the fastest qualifier for the midget race that supported the Niebel Classic. It was the first full-size pavement midget race at the track in 10 years. That race was shortened from 75 to 50 laps due to the weather forecast, and was called complete on lap 38 due to rain with Swanson in second position.
Driving a Beast/Binks midget new to the team and in pieces just 48 hours earlier, Swanson started fifth in that race, again representing Glenn Farms. He passed Derek Bischak to move into fourth place on lap two and got around Nick Hamilton on lap 10 for third. He took second on lap 26 from Dalton Armstrong to trail only the leader, O'Gara.
By lap 30 it was raining. The rain began to increase and the weather radar was not promising, so after four laps under caution the event was called complete on lap. 38. The top five were O'Gara, Swanson, Dalton Armstrong, Nick Hamilton and Bischak.
O'Gara set the fastest lap of that race on lap 24 with a time of 11.767 seconds. Swanson was second-fastest with a 11.818 on lap 11.
The races were broadcast live on MAVTV Plus.
The next races for Doran Racing, which is based in Lebanon, Ohio, are a pavement USAC Silver Crown event at Winchester (Ind.) Speedway on Thursday, July 22, and an asphalt sprint car race at Berlin Raceway in Marne, Mich., on Saturday, July 24.
For more information on Doran Racing, see DoranRacing.com.
The team also has a Facebook page.