Swanson Finishes a Solid Fifth
In USAC Silver Crown Race Saturday Night at Port Royal
In Doran Binks Racing's Mission Foods No. 77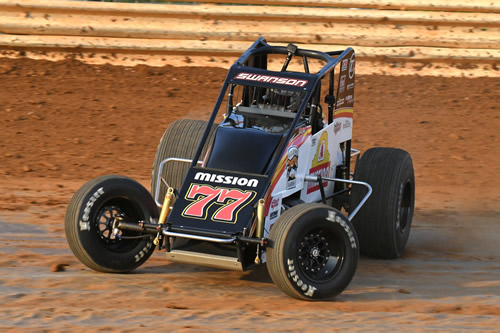 PORT ROYAL, Pa., June 19 — Top-five finishes are crucial when trying to defend a championship, and Doran Binks Racing's Kody Swanson recorded another one in pursuit of his unprecedented eighth USAC Silver Crown title when he finished fifth in the 50-lap USAC Silver Crown race Saturday night at Port Royal Speedway.
His Mission Foods No. 77, a Maxim chassis powered by a Hampshire Chevy engine that is also sponsored by Glenn Farms, started second in the 26-car field on the half-mile clay oval, but Swanson beat polesitter Mitchel Moles into the first turn and led the first 21 laps. Brady Bacon passed Moles for second on lap two and tried to get around Swanson both on the low side and the high side to no avail. By lap 10 Swanson had a 1.567-second lead over Bacon, who was followed by Moles, Chase Dietz and Logan Seavey.
The fight for second was intense, which allowed Swanson to increase his lead to over 2 seconds by lap 13. Seavey got around Bacon for second three laps later, and he was able to cut Swanson's lead to 0.796 of a second by lap 20 when the second of three cautions waved.
Swanson fought Seavey off on the restart but Seavey took the lead in Turn 3 on lap 22, relegating Swanson to second. On lap 24 Swanson, Bacon and Dietz were three abreast flying down the frontstretch as they battled for second. That battle allowed Seavey to build up a 3-second lead over Swanson by lap 31.
Swanson held second until lap 37, when Dietz got by. Bacon passed him on the following lap to relegate him to fourth.
The third and final yellow flew with 46 laps down for an incident involving Trey Burke and Mario Clouser. Carmen Perigo slipped under Swanson for fourth on the restart, but Swanson was able to finish fifth by holding off Justin Grant until the checkered.
Seavey, who also won this race last year, took the checkered over Dietz, who had a stellar series debut. Bacon was third followed by Perigo and Swanson. "It's tough to lead laps and not come away with a win, but it is nice to be disappointed with a top-five finish for me at a place like Port Royal," Swanson said afterwards.
"I'm thankful for the hard work from everyone involved with our dirt Silver Crown effort. We had a good run in qualifying and have been strong at different parts of the night, but just need to find something to keep our Mission Foods/Glenn Farms No. 77 a little better at the end of the feature. All considered, I think they're good problems for us to have this early in the [dirt] season, and I am grateful for all of us working together to keep our dirt program improving."
Swanson set the fastest lap of the race on lap 3 with a time of 22.273 seconds. He qualified second with a 20.918 to Moles' new track record of 20.899.
The next USAC Silver Crown race is the Bytec Dairyland 100 this coming Friday, June 23, at Madison International Speedway in Oregon, Wis.
All of the USAC Silver Crown races are streamed live by Flo Racing.
About Mission Foods:
The Gruma Corporation began in 1949 and is today the leading tortilla manufacturer worldwide. Mission Foods is a proud subsidiary of Gruma, and as the #1 tortilla company in the United States, manufactures a wide variety of authentic Mexican products. Five years ago it opened a state-of-the-art plant in Dallas, Texas, with the capacity to produce 30 million tortillas daily. Today Mission Foods is a global company, with special emphasis not only on the United States but also Mexico, Central America, Europe, China, Malaysia, and Australia. Its products include flour and corn tortillas; tostadas; low-carb, whole wheat, organic and gluten-free items; wraps; flatbreads such as naan, pita and roti; tortilla chips and organic chips; chicharrones; salsa, and dips. For more information see missionfoods.com.
For more information on Doran Racing, see DoranRacing.com.
The team also has a Facebook page.