Swanson Sets the Fastest Time and Wins
500 Sprint Car Tour Race Sunday at Toledo Speedway
In Doran Binks Racing's Mission Foods No. 77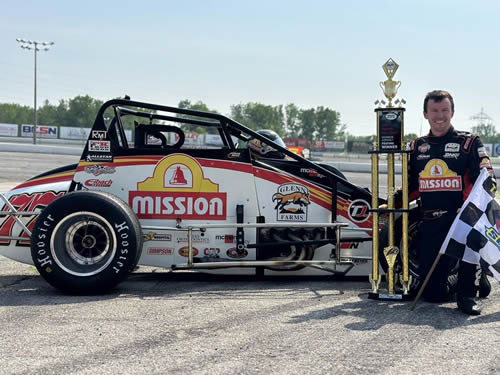 TOLEDO, Ohio, June 19 — Doran Binks Racing's Kody Swanson won the 40-lap feature sanctioned by the 500 Sprint Car Tour Presented by Auto Value Bumper to Bumper Parts Stores Sunday at Toledo Speedway. The asphalt sprint car action was part of the Father's Day Special Presented by Monroe Asphalt.
Although he was the fastest qualifier in the Mission Foods No. 77 also sponsored by Glenn Farms, Swanson had to start seventh in the 16-car field due to the inversion and Tyler Roahrig starting at the rear because his team changed a tire before the race.
Swanson, a native of Kingsburg, Calif., who now lives in Indianapolis, got straight to work. With Chevrolet power prepped by Dan Binks, the series' defending champion passed Kyle O'Gara, Bobby Santos III and Taylor Ferns to rise from seventh to fourth by the end of the first lap of the half-mile asphalt oval.
He passed Jackson Macenko for third on lap two to trail only Dakoda Armstrong and Justin Harper when the first of three yellows waved. The caution was for Tommy Nichols, who stopped on the track due to a mechanical issue.
Swanson used the outside groove to pass Harper at the end of the frontstretch on lap three to move into second place, but then another yellow that extended to a red flag waved with three laps down when Nichols crashed into the Turn 1 wall. He emerged unhurt.
Swanson took the lead on the restart by passing Armstrong off Turn 2, and he led the rest of the way.
Santos passed Armstrong for second on lap seven, but Swanson already had over a 2-second lead. He stretched his advantage to over 3 seconds by lap 11. O'Gara passed Armstrong for third on lap 16, but four laps later the third and final yellow waved for Ferns, who stopped on the frontstretch while running in fifth place. Roahrig had been steadily marching through the field during the first half, and with Ferns' departure he moved into fifth.
Roahrig passed Armstrong for fourth on lap 22 while Swanson worked on padding his lead over Santos.
O'Gara dropped out of the top five on lap 27. With 10 laps to go Swanson had a 2.144-second lead over Santos, with Roahrig third, Armstrong fourth and Tony Main fifth.
Roahrig passed Santos for second on lap 33, but Swanson was 2.976 seconds ahead. With no other cautions to close the gap, Swanson enjoyed a 1.839-second lead over Roahrig at the checkered. Santos finished third followed by Armstrong and Kaylee Bryson.
Swanson set the fastest lap of the race on lap seven with a time of 14.893 seconds. Santos ran the second-fastest lap of the race with a 15.156 on lap eight.
Swanson was the fastest qualifier with a 14.716, although the top six qualifiers were within 0.5 of a second of his time.
Swanson's victory came during a grueling Father's Day weekend. He placed fifth in the USAC Silver Crown race at Port Royal (Pa.) Speedway Saturday night, but that race ended at 12:26 a.m. The team had to load up, make the six-hour drive to Toledo, get set up at Toledo, and be on the track for Sunday's first practice session at 11:30 a.m.
The 500 Sprint Car Tour does not permit spotters, and Swanson said afterward that it sounded like his rivals were right behind him the whole time despite his big lead. "I was definitely nervous through lapped traffic there at the end," he said. "They were all racing each other hard to the finish, and I knew we were giving up time, but I was trying to not get ourselves in a bad position for anything to go wrong.
"Toledo is a neat place to race," he added. "When Tyler had to start from the rear, maybe that played in our favor today, because I knew that he and Bobby would run well; they always do. I'm just thankful for the opportunity, and the hard work that the Doran Binks crew put in to make it happen. I'm also thankful for our sponsors, which include Mission Foods and Glenn Farms."
Celebrating in victory lane was definitely a nice way to spend Father's Day. Swanson was joined there by his wife, Jordan; their sons, Trevor and Adam; and the rest of the Doran Binks Racing crew.
The series' races are streamed live by MAVTV for Flo Racing.
The next 500 Sprint Car Tour race is the Gene Nolen Classic on Saturday, July 8 at Anderson (Ind.) Speedway.
About Mission Foods:
The Gruma Corporation began in 1949 and is today the leading tortilla manufacturer worldwide. Mission Foods is a proud subsidiary of Gruma, and as the #1 tortilla company in the United States, manufactures a wide variety of authentic Mexican products. Five years ago it opened a state-of-the-art plant in Dallas, Texas, with the capacity to produce 30 million tortillas daily. Today Mission Foods is a global company, with special emphasis not only on the United States but also Mexico, Central America, Europe, China, Malaysia, and Australia. Its products include flour and corn tortillas; tostadas; low-carb, whole wheat, organic and gluten-free items; wraps; flatbreads such as naan, pita and roti; tortilla chips and organic chips; chicharrones; salsa, and dips. For more information see missionfoods.com..
For more information on Doran Racing, see DoranRacing.com.
The team also has a Facebook page.