Swanson Leads All 100 Laps from the Pole to Win
USAC Silver Crown Race Friday Night at Madison Int'l
In Doran Binks Racing's Mission Foods No. 77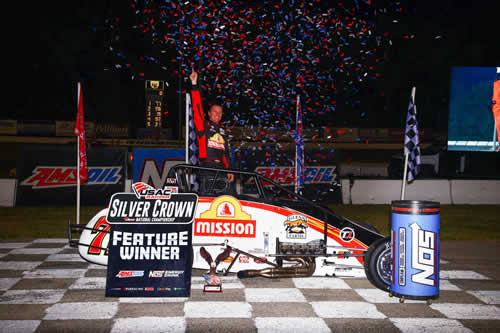 OREGON, Wis., June 24 — Kody Swanson has now won three of the four USAC Silver Crown races ever held at Madison Int'l Speedway. Friday night's victory was his most dominant, as he was the fastest qualifier to earn the pole, set the fastest lap of the race, and led all 100 laps of the Salute to America/Bytec Dairyland 100 in Doran Binks Racing's Mission Foods/Glenn Farms No. 77.
The greatest USAC Silver Crown driver in history extended his series' leading number of victories to 38 and earned his 43rd series pole, also a record, as he attempts to earn an unprecedented eighth series championship.
It was Swanson and the Doran Binks Racing team's second victory of the week, as they were also victorious last Sunday in a 500 Sprint Car Tour race at Toledo (Ohio) Speedway. Ironically the top three finishers were the same in both races, although second and third exchanged places. In Friday's USAC Silver Crown race Swanson took the checkered flag 2.392 seconds before Bobby Santos III did, while Tyler Roahrig finished third. Mario Clouser and Logan Seavey rounded out the top five.
Swanson, a native of Kingsburg, Calif., who now lives in Indianapolis, won the pole by turning the half-mile asphalt oval in 16.980 seconds for an average speed of 106.007 miles per hour, just a tick slower than his one-lap track record of 16.852 seconds set in 2019. Derek Bischak qualified second, just 0.085 of a second behind.
Although Swanson led the whole race, it has hard for the drivers to fall into a rhythm because there were five caution-flag periods. Each one erased Swanson's lead, but he was able to rebuild his advantage each time with his No. 77, which is powered by a Lanci Ford engine.
Bischak ran in second place until Santos, who started third, passed him to the outside on the backstretch on lap 20. Santos tried to chase Swanson down the rest of the way to no avail.
Roahrig, who started fourth, got around Bischak just like Santos did one lap later, on lap 21, for third place. Bischak spun in Turn 2 on lap 33 while fourth and retired, and was credited with a 20th-place finish in the field of 21 despite qualifying so well.
Clouser and Seavey started fifth and sixth, respectively. Seavey got around Clouser at the start but Clouser got under Seavey in Turn 3 on lap 71 for fourth.
The first yellow flew with three laps down when Dave Berkheimer stopped in Turn 2. The second yellow flew just four laps later when Taylor Ferns spun in the same turn. That yellow was extended when fluids from her car dropped on the track and had to be cleaned up.
The green waved again on lap 17, and within three laps Swanson had a 0.730-second lead. By lap 25 he had extended it to nearly a second, at 0.920. His advantage was over 1 second by lap 27 and it was 1.091 when Bischak spun to bring out the third yellow and allowed Santos to move closer once again.
The race went green from laps 39 through 61. At the halfway point Swanson had a 0.705-second lead. He was able to extend that in the coming laps as Santos was busy holding off Roahrig, who was making his first start ever at this track.
Swanson's advantage was back to over a second by lap 53 and it was 2.033 seconds when the fourth yellow waved with 61 laps down when Bryan Gossel stopped between Turns 1 and 2 and Greg Cory's car was throwing sparks.
Once again Swanson was forced to hold Santos off during a restart and try to rebuild his lead. He was 0.743 seconds ahead on lap 75. He set the fastest lap of the race on lap 77 with a lap in 17.446 seconds, and he had just rebuilt his advantage to over 1 second again when the fifth yellow waved on lap 82 when Billy Wease stopped between Turns 1 and 2 while running tenth and Justin Grant had a flat right-rear tire while running seventh.
That gave Santos, Roahrig and the rest of the field one more restart to pass Swanson, but he was up to the task. He had over a 1-second lead again with five laps remaining, and brought his car home over 2 seconds ahead.
Swanson hit his marks lap after lap, but he said he had to work hard for the victory.
"There is no peace of mind to be had when Bobby Santos and Tyler Roahrig are right behind you," he said afterwards. "Each one of these races that you're able to win means a lot. I'm just grateful to be part of this team, and for the support of Mission Foods and Glenn Farms."
Although strategy always plays a role in long USAC Silver Crown races, Santos noted that "These are 100-lap sprint races, where you're pushing as hard as you can the whole way."
Swanson is now second in the USAC Silver Crown point standings with 235 points to Seavey's 256. Grant, Matt Westfall and Clouser round out the top five in the current standings.
The next USAC Silver Crown race is July 20 at Winchester (Ind.) Speedway. Swanson led all 100 laps of that race last year.
Prior to that the team will run in the Gene Nolen Classic 500 Sprint Car Tour race July 8 at Anderson (Ind.) Speedway. Two days after Winchester they'll be back at Berlin Raceway in Marne, Mich., on July 22 for another 500 Sprint Car Tour race.
Both series' races are live streamed on Flo Racing.
About Mission Foods:
The Gruma Corporation began in 1949 and is today the leading tortilla manufacturer worldwide. Mission Foods is a proud subsidiary of Gruma, and as the #1 tortilla company in the United States, manufactures a wide variety of authentic Mexican products. Five years ago it opened a state-of-the-art plant in Dallas, Texas, with the capacity to produce 30 million tortillas daily. Today Mission Foods is a global company, with special emphasis not only on the United States but also Mexico, Central America, Europe, China, Malaysia, and Australia. Its products include flour and corn tortillas; tostadas; low-carb, whole wheat, organic and gluten-free items; wraps; flatbreads such as naan, pita and roti; tortilla chips and organic chips; chicharrones; salsa, and dips.
For more information see missionfoods.com.
For more information on Doran Racing, see DoranRacing.com.
The team also has a Facebook page.