Swanson Wins Second Consecutive Gene Nolen Classic
500 Sprint Car Tour Race Saturday at Anderson Speedway
In Doran Binks Racing's Mission Foods No. 77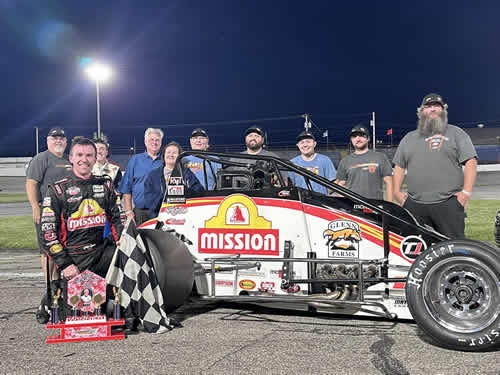 ANDERSON, Ind., July 10 — Doran Binks Racing's Kody Swanson spent a big portion of the CB Fabricating Gene Nolen Classic at Anderson Speedway Saturday night trying to find a way around Bobby Santos III. As it turned out he didn't have to, as Santos dropped out of the race with seven laps remaining and Swanson went on to post his second consecutive victory in the event named in memory of one of his former car owners.
With his triumph in the Mission Foods/Glenn Farms No. 77 powered by a Binks Chevy V8 engine, Swanson took the lead in the point standings as he guns for his second consecutive championship in the 500 Sprint Car Tour Presented by Auto Value Bumper to Bumper Parts Stores.
After Santos dropped out reportedly due to a mechanical issue that caused his car to run out of fuel, Swanson beat Kyle O'Gara by 0.502 seconds at the checkered flag after 100 laps around the quarter-mile, high-banked oval. Fastest qualifier Tyler Roahrig finished third followed by Dakoda Armstrong and Jackson Macenko in the field of 22 asphalt sprint cars.
Swanson was the second-fastest qualifier, just 0.023 off Roahrig's time of 11.097 seconds. The inversion was a six, so Swanson started fifth and the front row was shared by polesitter Santos and Chris Neuenschwander.
Neuenschwander led initially until Santos took the point on lap 18.
Swanson dove under Dakoda Armstrong for fourth on the first lap. He passed Neuenschwander for third on lap 30, and he moved into second behind Santos on lap 54 by passing Caleb Armstrong.
Santos had over a 1-second lead on lap 56, but Swanson was able to cut that in half by lap 61. Two caution flags with 66 and 67 laps down moved the No. 77 right on the tail tank of Santos's No. 22, and Swanson kept the pressure intense until Santos pulled away to a 0.5-second advantage with 10 laps to go.
Shawn Bonar hit the wall in Turn 4 with 92 laps down to bring out the final caution flag. He climbed out unhurt, but fluids leaked out of his car which caused the officials to throw a red flag and stop the field on the backstretch until the track crews could clean up the accident scene.
Santos led on the restart but then slowed and pulled into the infield, and Swanson inherited the lead. O'Gara, who had been third since lap 61, tried his best to get around Swanson at the end, but the Mission Foods No. 77 took the checkered in first place.
"This place has been tough lately, and with the inverts it's been difficult to pass good race cars and make your way back toward the front," Swanson said. "So tonight I was really pretty happy that we were able to make passes when the right opportunities presented themselves, and make our way from fifth to second. There toward the end, maybe we just weren't quite fast enough. Santos was really strong tonight, and I was going to try my best to keep up and hope to find a way around. I hated to see his race end like that, but I'm still thankful for the chance to be in contention at the finish and the opportunity to come away with a win.
"The Doran Binks team has been working really hard to advance our sprint car program, and it's great to see their hard work has helped us continue to improve," he added. "I also want to thank our sponsors, Mission Foods, Glenn Farms, and everyone who makes this possible for us."
After one false start there were a total of eight caution flags in the 100-lapper.
Roahrig set the fastest lap of the race followed by O'Gara and Swanson.
The race was streamed live by MAVTV on Flo Racing.
The next 500 Sprint Car Tour race is July 22 at Berlin Raceway in Marne, Mich. Prior to that the Doran Binks team will compete in a USAC Silver Crown race July 20 at Winchester (Ind.) Speedway.
About Mission Foods:
The Gruma Corporation began in 1949 and is today the leading tortilla manufacturer worldwide. Mission Foods is a proud subsidiary of Gruma, and as the #1 tortilla company in the United States, manufactures a wide variety of authentic Mexican products. Five years ago it opened a state-of-the-art plant in Dallas, Texas, with the capacity to produce 30 million tortillas daily. Today Mission Foods is a global company, with special emphasis not only on the United States but also Mexico, Central America, Europe, China, Malaysia, and Australia. Its products include flour and corn tortillas; tostadas; low-carb, whole wheat, organic and gluten-free items; wraps; flatbreads such as naan, pita and roti; tortilla chips and organic chips; chicharrones; salsa, and dips. For more information see missionfoods.com.
For more information on Doran Racing, see DoranRacing.com.
The team also has a Facebook page.