Swanson Leads All 100 Laps from the Pole to Win
And Take the USAC Silver Crown Point Lead
Thursday Night at Winchester Speedway
In Doran Binks Racing's Mission Foods No. 77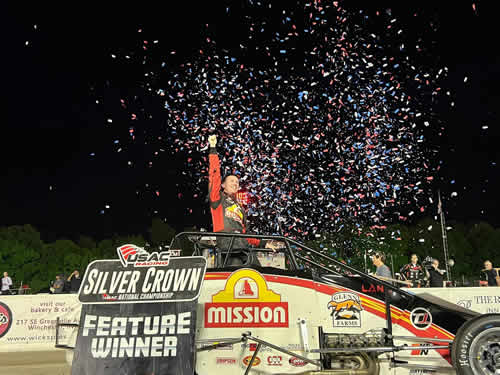 WINCHESTER, Ind., July 21 — For the second year in a row and for the second race in a row this year, Doran Binks Racing's Kody Swanson led all 100 laps of a USAC Silver Crown race as he defended his 2022 victory in the Rich Vogler Classic Thursday night at Winchester Speedway in dominant fashion.
The defending series champion led all 100 laps of the USAC Silver Crown race June 23 at Madison Int'l Speedway in Wisconsin too, and by the end of Thursday's race on the world's fastest half-mile paved oval Swanson and Doran Binks Racing had earned enough points to take the lead in the 2023 USAC Silver Crown driver and entrant point standings. They have 311 points for their work with the Mission Foods/Glenn Farms No. 77 so far this year, while Logan Seavey and Rice Motorsports/Abacus Racing are second in the current standings with 295 points.
Swanson won this race last year by an unheard of 10.062 seconds, lapping everyone except the runner-up, who was Seavey.
In Thursday night's 31st edition he won by 2.8858 seconds over Bobby Santos III, while Derek Bischak recorded his best USAC Silver Crown finish ever to complete the podium. C.J. Leary and Davey Hamilton Jr. rounded out the top five.
There were five yellow flags in this year's race, and the top 10 drivers finished on the lead lap Thursday night.
Swanson has now won the Rich Vogler Classic four times (2016, 2019, 2022 and 2023).
For the third consecutive time Swanson also won the pole for this race. On Thursday he did it with a lap of 14.758 seconds for an average of 121.968 miles per hour. The run extended his record as the all-time pole winner in series history to 44. With his race victory a few hours later, the seven-time champion extended his record as the winningest driver in series history with 39 career triumphs.
Although Swanson showed the way for the entire race, three different drivers ran in second place and did their best to pass him.
Seavey ran in second place from the start until lap 19, when Leary slipped under him in Turn 4.
Leary lost the runner-up spot on lap 63 when Santos powered under him entering Turn 3.
Santos set his fastest laps of the race near the end, including his fastest lap 10 laps from the finish, in a last-ditch effort to catch Swanson. Although he drew as close as three-tenths of a second behind, Swanson was able to increase his advantage to nearly 3 seconds at the checkered with his No. 77, which is powered by a Lanci-prepared Ford engine.
Swanson had a 1-second lead as early as lap five, but his challengers were able to draw right up behind him for the five restarts.
The first yellow waved from laps 25-27 after Taylor Ferns spun on the backstretch while running seventh. The second flew from laps 35-37 after Nathan Byrd slowed with mechanical issues and retired.
The event was held under high humidity, and severe thunderstorms with large hail and high winds were predicted for the area Thursday night. Luckily the storm that hit the track wasn't intense, but rain was the cause of a yellow on lap 54 which turned into a red flag for a 26-minute weather delay.
After that restart there was another yellow on lap 56 when Ferns slowed on the backstretch. The final caution flag flew from laps 80-85 after the right-front wheel center broke on Seavey's car, which caused him to crash in Turn 2 while running 11th. Luckily he wasn't hurt.
Despite all his rivals' opportunities, Swanson was able to remain at the front.
"It's hard to win any of these races; the competition is so close," Swanson said. "I'm very grateful we were able to get it done, and for everyone involved on this Mission Foods, Glenn Farms, Doran Binks Racing team."
Top contender Justin Grant was unable to compete in the main event Thursday due to engine problems during practice.
The next USAC Silver Crown race is Aug. 5 at Toledo (Ohio) Speedway. Swanson led all 100 laps of that race last year too.
Prior to that he'll compete in two 500 Sprint Car Tour races this Saturday, July 22 at Berlin Raceway in Marne, Mich., and July 29 at Nashville Fairgrounds Speedway in Tennessee. Swanson is that series' defending champion and he's also the current point leader.
Both series' events are streamed live on Flo Racing.
About Mission Foods: The Gruma Corporation began in 1949 and is today the leading tortilla manufacturer worldwide. Mission Foods is a proud subsidiary of Gruma, and as the #1 tortilla company in the United States, manufactures a wide variety of authentic Mexican products. Five years ago it opened a state-of-the-art plant in Dallas, Texas, with the capacity to produce 30 million tortillas daily. Today Mission Foods is a global company, with special emphasis not only on the United States but also Mexico, Central America, Europe, China, Malaysia, and Australia. Its products include flour and corn tortillas; tostadas; low-carb, whole wheat, organic and gluten-free items; wraps; flatbreads such as naan, pita and roti; tortilla chips and organic chips; chicharrones; salsa, and dips. For more information see missionfoods.com.
For more information on Doran Racing, see DoranRacing.com.
The team also has a Facebook page.