Swanson Retakes Point Lead After Podium Finish
In 500 Sprint Car Tour Race Saturday Night in Nashville
In Doran Binks Racing's Mission Foods No. 77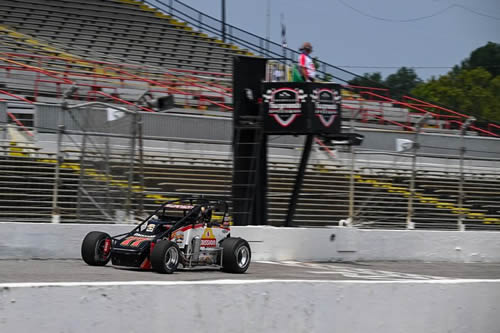 NASHVILLE, Tenn., Aug. 1 — Doran Binks Racing's Kody Swanson qualified third, started fourth in the 40-lap feature, ran as high as second, and finished third last Saturday night at Nashville Fairgrounds Speedway in the Pro Door Manufacturing 40. The 40-lap race was part of the 500 Sprint Car Tour Presented by Auto Value Bumper to Bumper Parts Stores, and unofficially with the podium finish with his Mission Foods/Glenn Farms No. 77 Swanson retook the lead in the series' championship.
The top six qualifiers were inverted for the start, which put Billy Wease on the pole. He led the whole race, which ran non-stop, for his first series victory.
In a car powered by a Binks Chevy engine, Swanson was able to soar from fourth to second on the first lap. He passed fellow row-two starter Dakoda Armstrong to the outside on the backstretch, and dipped under Bobby Santos III, who started second, on the frontstretch before the start-finish line.
Swanson then did his best to pass Wease too, but he was elusive. Instead, Santos regained second from Swanson with a move to the inside in Turn 1 working lap nine. Swanson remained third the rest of the way, and the podium finishers took the checkered flag nose to tail. Wease's margin of victory over Santos was just 0.149 of a second, while Swanson was only 0.242 behind Santos. The driver who finished fourth, Kyle O'Gara, was further back, some 1.994 seconds behind Swanson at the end. Armstrong rounded out the top five and the driver who led the point standings going into this race, Tyler Roahrig, finished sixth.
The practice sessions on Friday and Saturday as well as Saturday's qualifying session were held during the day while the race was at night. That, plus the fact this was the series' first event at this 0.596-mile asphalt oval, made finding a good set-up challenging for the crews of the 19 feature starters.
The Doran Binks crew and Swanson carved 1.154 seconds off their fastest lap run during the first practice session on Friday and the 18.011-second lap Swanson ran in qualifying on Saturday. Swanson, a native of Kingsburg, Calif., who now lives in Indianapolis, was only 0.143 off the fastest lap set in qualifying. That was an automatic new track record of 17.868 for Jake Trainor.
The feature didn't start until 9:25 p.m. Eastern time on Saturday night after a slight delay for rain. Swanson set the fastest lap of the race on lap two with a time of 18.182.
The race was streamed live by MAVTV for Flo Racing.
The 500 Sprint Car Tour doesn't have any races in August, but it has events at Lorain Raceway Park in Amherst, Ohio on Sept. 9; Anderson Speedway in Anderson, Ind., on Oct. 7, and Lucas Oil Indianapolis Raceway Park in Brownsburg, Ind., on Oct. 14.
Doran Binks Racing also fields cars for Swanson in the USAC Silver Crown series, where the team and Swanson lead the current entrant and driver point standings. That series has three races in August: Toledo (Ohio) Speedway this Saturday, Aug. 5; Illinois State Fairgrounds Aug. 19, and World Wide Technology Raceway in Madison, Ill., near St. Louis on Aug. 27.
About Mission Foods: The Gruma Corporation began in 1949 and is today the leading tortilla manufacturer worldwide. Mission Foods is a proud subsidiary of Gruma, and as the #1 tortilla company in the United States, manufactures a wide variety of authentic Mexican products. Five years ago it opened a state-of-the-art plant in Dallas, Texas, with the capacity to produce 30 million tortillas daily. Today Mission Foods is a global company, with special emphasis not only on the United States but also Mexico, Central America, Europe, China, Malaysia, and Australia. Its products include flour and corn tortillas; tostadas; low-carb, whole wheat, organic and gluten-free items; wraps; flatbreads such as naan, pita and roti; tortilla chips and organic chips; chicharrones; salsa, and dips. For more information see missionfoods.com.
For more information on Doran Racing, see DoranRacing.com.
The team also has a Facebook page.