Swanson Wins Rollie Beale Classic at Toledo
In Doran Binks Racing's Mission Foods No. 77
To Pad His USAC Silver Crown Point Lead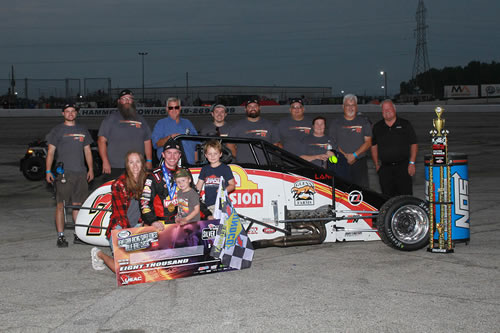 TOLEDO, Ohio, Aug. 6 — Kody Swanson is from Kingsburg, Calif., and he now lives in the Indianapolis suburb of Zionsville, Ind., but he seems to own part of Toledo, Ohio too.
That part is on Benore Road where the half-mile Toledo Speedway is located. Swanson won an unprecedented fifth consecutive USAC Silver Crown race at Toledo Speedway Saturday night, and his seventh there in all (2011, 2015, 2018, 2019, 2021, 2022, 2023). (There was no Silver Crown race there in 2020.)
The complete name of Saturday's race on the high-banked asphalt oval was the tenth running of the Hemelgarn Racing/Super Fitness Rollie Beale Classic Fueled by Marco's Pizza. It's named in honor of the late Rollie Beale, a Toledo native, the 1973 USAC sprint car champion driver, a member of the National Sprint Car Hall of Fame, and a longtime USAC official.
It's a long name for a long race of 100 laps. Swanson didn't lead all of them this time, but he led the one that counted in Doran Binks Racing's Mission Foods/Glenn Farms No. 77, which is powered by a Lanci-prepared Ford engine. He extended his record as the winningest driver in USAC Silver Crown history with his 40th career series triumph.
Swanson started on the pole after he extended his record as the all-time pole winner in series history to 45 when he was the fastest qualifier with a time of 15.129 seconds. It was his seventh pole position at Toledo.
He led the first lap, but C.J. Leary, who started second, got the advantage on lap two with a move under the defending series champion coming out of Turn 4.
There was only one yellow, which flew from laps five through nine for Davey Hamilton Jr., who was fourth before mechanical issues forced him to stop amidst a great deal of smoke pouring out of his No. 19.
Swanson stayed very close to Leary initially, but when the race was 25 percent over Leary had a 0.965-second lead. Justin Grant was third, about 1.5 seconds behind Swanson. Five laps later Leary led by 1.522 seconds but Swanson was 2.3 seconds ahead of Grant as the top duo pulled away from the rest of the 22-car field.
Navigating through the lapped traffic was challenging, and by the halfway point Leary's advantage had grown to 4.113 seconds. Derek Bischak, who had passed Grant for third two laps earlier, was 2.243 seconds behind Swanson at the end of lap 50.
Swanson put his head down, concentrated on getting through the lapped traffic unscathed, and tried to catch Leary. He had cut Leary's lead to 1.896 seconds by lap 60, and was still 2.742 seconds ahead of Bischak.
By lap 67 Swanson was only 1 second behind, and three laps later he was only 0.599 of a second back. By lap 75 he was right on Leary's tail, just 0.205 of a second back, while he was 3.895 seconds ahead of Bischak. Swanson followed Leary intently looking for a way by. He almost passed him working lap 77, and he made the pass stick working lap 78 when he charged under Leary as they sped through Turns 1 and 2.
Swanson led the rest of the race. He took the checkered 1.158 seconds before Leary did, while Bischak finished third, 2.269 seconds behind Leary. Grant finished fourth and Logan Seavey rounded out the top five.
Swanson set the fastest lap of the race on lap 15 with a time of 15.437 seconds. Leary set the second-fastest lap with a 15.455 on lap 13.
"C.J. did a great job," Swanson said. "His car was really strong early, and then the pace changed and maybe the race kind of came to us. There about six laps from the end we were just in the main line with everyone. We had a decent lead and I didn't want to take any additional risks; I was just trying to make sure we finished this one.
"Lapped traffic is always tough because all the cars are pretty fast, and they're racing other cars. At one point when C.J. had a big lead, I thought we would have to be happy with second. But I think lapped traffic helped us to race our way back into contention, and we were lucky to get away with one there in the end. We ran hard laps, and the chance to sort it out on the track was fun for me. I had to work hard for this one but it worked out, so no complaints.
"The Doran Binks team really worked hard and gave us a car that could win. I'm thankful to be a part of this team, and thankful for our sponsors like Mission Foods and Glenn Farms."
Swanson padded his point lead and now has 384 points to Seavey's 353 as he looks for an unprecedented eighth series championship. Doran Binks Racing also leads the entrant standings.
Saturday's race, like all the USAC Silver Crown events, was livestreamed by Flo Racing.
There are two more USAC Silver Crown races in August; one on a dirt track and one on an asphalt track. The series' next race is Aug. 19 at the Illinois State Fairgrounds in Springfield, Ill. It is followed by an event on Aug. 27 at World Wide Technology Raceway in Madison, Ill., near St. Louis. Both are daytime races.
About Mission Foods: The Gruma Corporation began in 1949 and is today the leading tortilla manufacturer worldwide. Mission Foods is a proud subsidiary of Gruma, and as the #1 tortilla company in the United States, manufactures a wide variety of authentic Mexican products. Five years ago it opened a state-of-the-art plant in Dallas, Texas, with the capacity to produce 30 million tortillas daily. Today Mission Foods is a global company, with special emphasis not only on the United States but also Mexico, Central America, Europe, China, Malaysia, and Australia. Its products include flour and corn tortillas; tostadas; low-carb, whole wheat, organic and gluten-free items; wraps; flatbreads such as naan, pita and roti; tortilla chips and organic chips; chicharrones; salsa, and dips. For more information see missionfoods.com.
For more information on Doran Racing, see DoranRacing.com.
The team also has a Facebook page.