Swanson Finishes Fourth at Springfield
In Doran Binks Racing's Mission Foods No. 77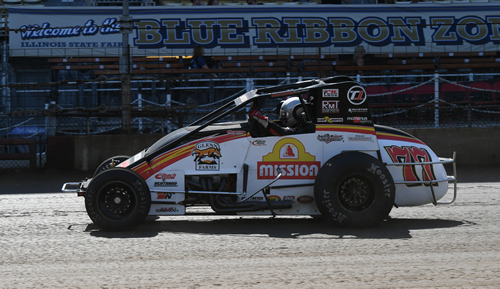 SPRINGFIELD, Ill., Aug. 20 — Although Logan Seavey gained 15 points on Kody Swanson for winning the 60th annual Bettenhausen 100 USAC Silver Crown race at the Illinois State Fairgrounds, Swanson and the Doran Binks Racing team still lead the overall point standings due to their solid fourth-place finish in the 100-lapper on the 1-mile dirt oval Saturday afternoon.
Driving the Mission Foods No. 77 powered by a Lanci Ford engine, Swanson started tenth in the 31-car field, but he certainly didn't stay there long once the green flag dropped.
He passed Davey Ray, Wayne Johnson and Mario Clouser on the first lap to rise to seventh place, and he got sixth by passing Jacob Wilson on lap two. The native of Kingsburg, Calif., who now lives in Indianapolis remained in sixth place through lap 10, and advanced to fifth on lap 11 by passing Justin Grant.
The first of four cautions waved with 16 laps down when Shane Cockrum slowed on the frontstretch. Two laps following the restart, Grant got Swanson back to relegate him back to sixth, but Swanson was only 0.179 of a second behind Grant on lap 25.
Grant passed Chase Dietz for fourth on lap 36, but Swanson was able to stay right behind Dietz too. On lap 40 Swanson was just 0.361 behind Dietz and nearly 3 seconds ahead of the seventh-place runner, Wilson.
Following the second yellow, which was needed from laps 45-48 after Korey Weyant slowed, Swanson passed Dietz on the restart to regain fifth on lap 49. On the very next lap he passed Emerson Axsom for fourth place, and he remained in fourth for the second half of the race to finish in that position.
Travis Welpott spun between Turns 3 and 4 to set up a green-white-checkered finish, but the top five positions didn't change at the end. Seavey took the checkered over Cottle with a 1.094-second margin of victory. Grant was third. Swanson was 0.636 behind Grant at the line and 0.497 ahead of Axsom.
C.J. Leary set the fastest lap of the race on lap 11 with a time of 34.144 before he had mechanical issues and brought out the third caution on lap 82. Swanson had the second-fastest lap of the race on lap nine with a time of 34.146.
Swanson's qualifying time was a 31.797, just 0.480 off Seavey's pole-winning time of 31.317.
"The way the racetrack was, it was really tricky and technical in spots," Swanson said after the race. "It made it very hard to pass, and ultimately we just weren't quite good enough to get farther forward. Sometimes that's just how it goes, and we did what we could.
"We didn't qualify real well, so we made some changes before the feature," he added. "I have to thank the Doran Binks crew for all of their hard work, and Mission Foods and Glenn Farms for their support. We'll keep after it and be ready to give it another shot next time."
Swanson now leads the point standings with 445 points to Seavey's 429. Clouser, who finished eighth on Saturday, is third with 307.
Prior to this event, Swanson had won the last three USAC Silver Crown races.
He has won the Bettenhausen 100 three times — 2014, 2015 and 2021. In 2021 he came from 23rd to first.
Saturday's race, like all the USAC Silver Crown events, was livestreamed by Flo Racing.
The next USAC Silver Crown race is coming right up on Sunday, Aug. 27 at World Wide Technology Raceway in Madison, Ill., as part of its IndyCar weekend. Swanson is that race's defending winner. He set a new world record in qualifying for that race last year with a 30.675 for an average speed of 146.699 miles per hour.
He is also the series' winningest driver ever, with 40 victories and seven championships to date.
About Mission Foods: The Gruma Corporation began in 1949 and is today the leading tortilla manufacturer worldwide. Mission Foods is a proud subsidiary of Gruma, and as the #1 tortilla company in the United States, manufactures a wide variety of authentic Mexican products. Five years ago it opened a state-of-the-art plant in Dallas, Texas, with the capacity to produce 30 million tortillas daily. Today Mission Foods is a global company, with special emphasis not only on the United States but also Mexico, Central America, Europe, China, Malaysia, and Australia. Its products include flour and corn tortillas; tostadas; low-carb, whole wheat, organic and gluten-free items; wraps; flatbreads such as naan, pita and roti; tortilla chips and organic chips; chicharrones; salsa, and dips. For more information see missionfoods.com.
For more information on Doran Racing, see DoranRacing.com.
The team also has a Facebook page.