Swanson Earns Pole, Leads a Quarter of the Race
In Doran Binks Racing's Mission Foods No. 77
Until Mechanical Issue Causes 14th-Place Finish
In USAC Silver Crown Race at WWTR Sunday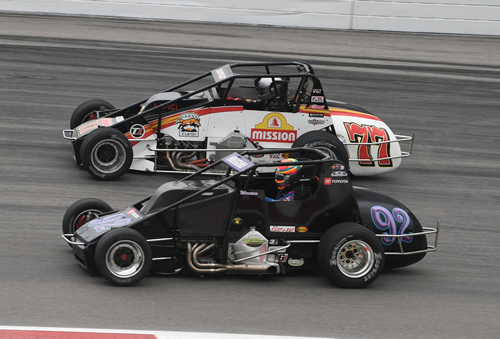 MADISON, Ill., Aug. 28 — It was an up-and-down day for Doran Binks Racing and driver Kody Swanson in USAC Silver Crown action Sunday in the shadows of the Gateway Arch at World Wide Technology Raceway. Swanson won the pole and led more than a quarter of the 80-lap/100-mile race on the 1.25-mile asphalt oval until a mechanical issue dropped the Mission Foods/Glenn Farms No. 77 to 14th place in the official rundown of the Outfront Media USA 100.
The event shared the card with the NTT IndyCar Series' Bommarito Automotive Group 500.
After leading the 22-car field to the green flag, Swanson dropped to third initially with the No. 77, which is powered by a Lanci-prepped Ford engine. He quickly moved into second before two laps were in the books as the top runners ran inches apart. He regained the lead from Logan Seavey as the top pack jockeyed for positions, but dropped to second again when C.J. Leary slipped under him coming out of Turn 1 on lap five.
Tom Paterson brought out the first of six yellows with six laps down when he stopped in Turn 2. Leary continued to have the upper hand after the restart on lap eight, but Leary brought out a yellow when he slowed on the frontstretch working lap 11, which gave the lead back to Swanson. The top five for the restart on lap 15 were Swanson, Mario Clouser, Davey Hamilton Jr., Bobby Santos III and Justin Grant.
Hamilton ducked under Clouser in Turn 2 to take second place on lap 16, and then he applied unrelenting pressure on Swanson for many laps. Swanson was only 0.112 ahead of Hamilton when the third yellow waved on lap 24 when Taylor Ferns spun between Turns 1 and 2 and Travis Welpott and Nathan Moore both slowed. Matt Westfall and Nathan Byrd reported to the pits for issues under that yellow too, as many teams were experiencing unexpected challenges.
Hamilton got alongside Swanson a couple of times following that restart on lap 28, but couldn't make a pass stick. He made one work working lap 34 when he dipped under Swanson in Turn 3 for the lead, however, pushing Swanson to second followed by Grant, Derek Bischak, and Clouser.
Unfortunately two laps later one of those unexpected challenges struck the Doran Binks team too when Swanson had all he could handle to keep the car off the wall when he lost his brakes in Turns 1 and 2 at about 180 miles per hour. He saved it, but lost many positions before another caution waved on lap 38 for debris on the frontstretch.
Swanson pitted under yellow several times for emergency repairs and he was able to finish the race. He dropped as far back as 16th. Nathan Byrd's car's engine blew on the frontstretch on lap 50, and his departure moved Swanson up to 15th. He advanced one more spot on the last lap after Welpott brought out a final caution with 74 laps down when he stopped in Turn 2. That set up a green-white-checkered finish. Even Hamilton's car was smoking at the end, but he held on for his first USAC Silver Crown victory ever. Santos was second, 0.169 behind. Grant finished third, Seavey was fourth, and Bischak rounded out the top five.
The weekend schedule was altered a bit due to rain on Saturday. USAC Silver Crown practice and qualifying were combined on Sunday morning into one session, with a driver's fastest lap counting as his or her qualifying lap. Swanson topped the charts when his 14th of 21 laps run was done in only 30.745 seconds for an average speed of 146.365 miles per hour. It was his 46th career series pole, extending that record, and his fifth USAC Silver Crown pole so far this year. It did not beat the world record he set in winning the pole here last year, when he was clocked in 30.675 seconds for an average speed of 146.699 miles per hour. Seavey was the second-fastest qualifier on Sunday, just a tick behind with a 30.843. Santos was third with a 30.865.
Swanson disclosed that after qualifying his car experienced an overheated clutch which caused smoke in the cockpit. "Luckily we had the time to fix it, and the guys jumped on it, figured out what caused it, and made sure it was right before the race," he said.
"Our car was OK when the race started, but some of the other guys had good cars too and I was third by Turn 1 on the first lap," he said. "They were able to draft away, and that cost us. I got the lead for a second, and then C.J. got by. He seemed strong too, but his car ended up breaking and we inherited the lead.
"Davey had a strong car too, and I had to defend really hard because he applied a lot of pressure. We were still leading around lap 33 when he got by us going into Turn 3, but about a lap and a half later I passed him going into Turn 1. But as I got around him, the brake pedal went to the floor.
"I thought we were crashing, as fast as we were going," he continued. "We still had a fair amount of fuel on board. When I got loose it got me up out of the groove and sideways enough to scrub off some speed. I weaved to the right to get closer to the wall to try to avoid getting anyone else involved. I turned it back to the left and I was grateful when it turned into the corner. At that point I was just trying to scrub off speed and keep it out of the wall. I crashed at this track in 2016, and honestly I think that experience helped me today. I was thrilled I didn't have to meet the ambulance or the wrecker. All things considered, we were lucky. It was a big moment for us.
"After that we caught a few cautions and came down pit road and tried to repair it. We had lost a seal out of the rear caliper. We were able to get the rear brake line capped off in the pits, got back out, and had enough laps to get from 16th to 14th at the end. Everybody worked hard so we could at least finish, and I appreciate their effort."
Swanson and the Doran Binks team are now second in the point standings, just seven behind, with 483 points to Seavey's 490. Grant is third with 363 followed by Clouser with 353 and Kaylee Bryson with 344.
Three USAC Silver Crown races remain in the 2003 championship: this coming Saturday, Sept. 2 at the Du Quoin State Fairgrounds in Du Quoin, Ill.; Sept. 22-23 at Eldora Speedway in Rossburg, Ohio; and Oct. 14 at Lucas Oil Indianapolis Raceway Park in Brownsburg, Ind.
Sunday's race, like all the USAC Silver Crown events, was livestreamed by Flo Racing.
Doran Binks Racing and Swanson also compete in the 500 Sprint Car Tour, where they lead the current team and driver standings, respectively. Three races remain in that series too: Sept. 9 at Lorain Raceway Park in Amherst, Ohio, near Cleveland; Oct. 7 at Anderson Speedway in Anderson, Ind., and Oct. 14 at Lucas Oil Indianapolis Raceway Park.
About Mission Foods: The Gruma Corporation began in 1949 and is today the leading tortilla manufacturer worldwide. Mission Foods is a proud subsidiary of Gruma, and as the #1 tortilla company in the United States, manufactures a wide variety of authentic Mexican products. Five years ago it opened a state-of-the-art plant in Dallas, Texas, with the capacity to produce 30 million tortillas daily. Today Mission Foods is a global company, with special emphasis not only on the United States but also Mexico, Central America, Europe, China, Malaysia, and Australia. Its products include flour and corn tortillas; tostadas; low-carb, whole wheat, organic and gluten-free items; wraps; flatbreads such as naan, pita and roti; tortilla chips and organic chips; chicharrones; salsa, and dips. For more information see missionfoods.com.
For more information on Doran Racing, see DoranRacing.com.
The team also has a Facebook page.