Swanson Finishes Third at Du Quoin Saturday
In Doran Binks Racing's Mission Foods No. 77;
Cuts Seavey's Advantage to Just One Point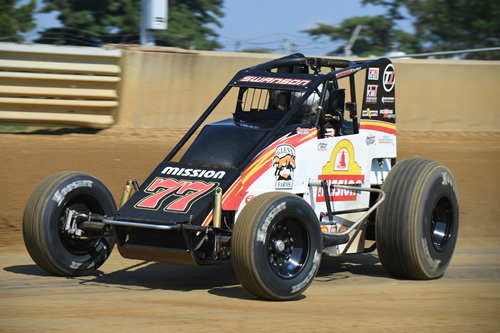 DU QUOIN, Ill., Sept. 4 — Doran Binks Racing's Mission Foods/Glenn Farms No. 77 driven by Kody Swanson was the fastest car in the 69th running of the Ted Horn 100 USAC Silver Crown race at the Du Quoin State Fairgrounds Saturday afternoon. Track position was everything, however. Swanson put on a stirring charge to advance to third at the checkered after starting eighth in a race that only had three caution flags once it got underway.
Justin Grant started on the pole and led all but the first lap of the 100-lapper, when C.J. Leary, who started second, had the point in the 29-car field on the 1-mile dirt oval.
But it was Swanson who set the fastest lap of anyone in the race. He gave it his all right up to the end with the No. 77, a Maxim with a Bob Hampshire-prepped Chevy engine, as he set the fastest race lap on lap 99 with a time of 31.363 seconds. He was also the fastest driver around the halfway point after he ran a lap in 31.675 on lap 58.
Grant's performance gave him the six bonus points available as well as the winner's 70. Logan Seavey came in fifth and he still leads the point standings, but now it's only by one point over Swanson. Going into the race Seavey led the standings over Swanson by seven points.
Only two more USAC Silver Crown events remain in 2023: Sept. 22-23 at Eldora Speedway in Rossburg, Ohio, and Oct. 14 at Lucas Oil Indianapolis Raceway Park in Brownsburg, Ind.
The Doran Binks team and Swanson had a scare on the grid on Saturday when the car wouldn't fire off after the command was given, but luckily it eventually pulled away. If the car would have required a push Swanson would have had to start last.
A yellow flew before one lap was in the books after Casey Buckman was left facing the wrong way on the backstretch near Turn 2 after the initial start. Swanson remained in eighth initially but he moved to seventh on lap four by passing Chase Stockon. He moved into sixth on lap 10 when he got by Shane Cottle. He remained in sixth through lap 32, including three laps under yellow after Kaylee Bryson slowed in Turns 1 and 2 on lap 28.
Swanson was right on the back bumper of the fifth-place driver, Jerry Coons Jr., when that yellow waved, and he passed Coons for fifth on lap 33.
That put him right behind Seavey. He slid under him going into Turn 1 on lap 35, but Seavey crossed back ahead of him coming off Turn 2 before another attempt by Swanson worked going into Turn 3. That put him in fourth place behind Grant, Leary and Davey Ray.
At that point one of the fiercest battles of the race erupted between Ray, Swanson, and another driver who had gotten by Coons, Shane Cockrum. On lap 43 Swanson (fourth) was 0.237 behind Ray (third) and 0.182 ahead of Cockrum (fifth), and that battle continued for many laps.
Swanson slid past Ray going into Turn 3 on lap 48 in an attempt to get third, but drifted out past the rubber on the track so both Ray and Cockrum got by to push Swanson to fifth. However, on lap 53 Ray got loose and both Cockrum and Swanson passed him, which put Swanson back in fourth place.
Swanson stayed in fourth until lap 68, when Coons passed him to put him back to fifth, but he regained fourth on lap 73 when he passed Coons back. That segment had a yellow too, as it waved from laps 64 to 68 when Buckman spun in Turn 3.
There was only one other yellow, which flew from laps 82-84 when Stockon's car suffered a flat right-rear tire. Two laps after the restart Cockrum, who was third, got loose and Swanson charged under him in Turn 4 for the final podium position.
Swanson was only 0.288 behind Leary at the checkered. He was a whopping 9.973 seconds ahead of the fourth-place finisher, Cockrum. Seavey was fifth, 0.347 behind Cockrum.
Coons, Emerson Axsom, hard-charger Wayne Johnson, Taylor Ferns and Kyle Steffens rounded out the top 10.
"We're here to win, and we just weren't fast enough today," Swanson told the Flo Racing audience who watched the livestream. "Third will have to do. But we were a little better today than we were at Springfield.
"We're learning more about this car and made some positive progress," he added later. "I appreciate everyone on the Doran Binks team for their hard work, and Mission Foods and Glenn Farms for their support."
Doran Racing and Swanson are the series' defending champions and Swanson is its winningest driver ever, with 40 victories and seven championships to date.
Doran Binks Racing and Swanson also compete in the 500 Sprint Car Tour, where they lead the current team and driver standings, respectively. Three races remain in the 500 Sprint Car Tour series in 2023: Sept. 9 at Lorain Raceway Park in Amherst, Ohio, near Cleveland; Oct. 7 at Anderson Speedway in Anderson, Ind., and Oct. 14 at Lucas Oil Indianapolis Raceway Park in Brownsburg, Ind. Swanson and Doran Racing won that series' inaugural championship last year.
About Mission Foods: The Gruma Corporation began in 1949 and is today the leading tortilla manufacturer worldwide. Mission Foods is a proud subsidiary of Gruma, and as the #1 tortilla company in the United States, manufactures a wide variety of authentic Mexican products. Five years ago it opened a state-of-the-art plant in Dallas, Texas, with the capacity to produce 30 million tortillas daily. Today Mission Foods is a global company, with special emphasis not only on the United States but also Mexico, Central America, Europe, China, Malaysia, and Australia. Its products include flour and corn tortillas; tostadas; low-carb, whole wheat, organic and gluten-free items; wraps; flatbreads such as naan, pita and roti; tortilla chips and organic chips; chicharrones; salsa, and dips. For more information see missionfoods.com.
For more information on Doran Racing, see DoranRacing.com.
The team also has a Facebook page.