Swanson Finishes Fourth in 500 Sprint Car Tour Race
Saturday Night at Lorain Raceway Park
In Doran Binks Racing's Mission Foods No. 77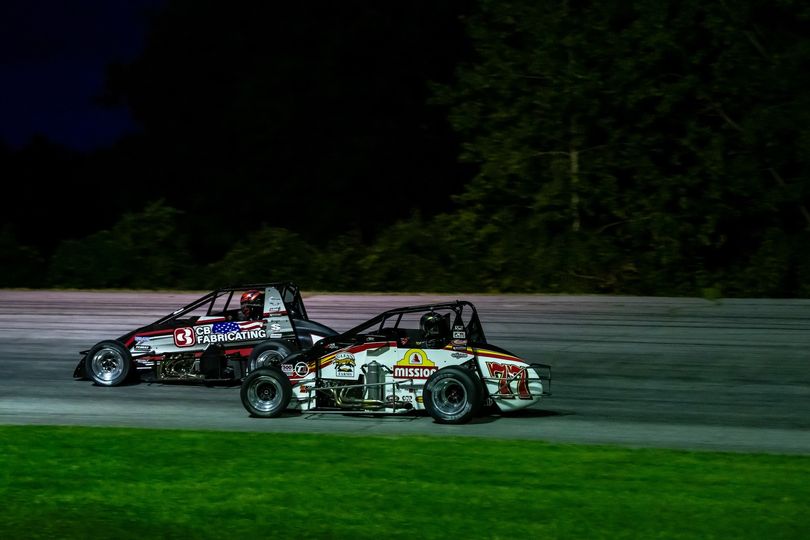 AMHERST, Ohio, Sept. 10 — The 500 Sprint Car Tour Presented by Auto Value Bumper to Bumper Parts Stores sanctioned a race at Lorain Raceway Park for the first time Saturday night. Many of the teams entered were seeing the three-eighths mile asphalt oval for the first time, so they didn't have many notes to help determine their set-ups. That was the case with Doran Binks Racing, but it still recorded a top-five finish of fourth with driver Kody Swanson in the 50-lap main event.
Swanson qualified fifth in the 14-car field with a time of 14.067 seconds with the Mission Foods/Glenn Farms No. 77, which was just 0.134 off Tyler Roahrig's fast time of 13.933. That was a new track record for non-wing sprint cars here, as the old mark was 14.653 set by Bobby Santos III in 2017.
The inversion was a six, so Swanson started second beside polesitter Kyle O'Gara with the No. 77, which is powered by a Binks Chevy engine. O'Gara led all 50 laps of the race, which only had one yellow flag to condense the field.
Swanson ran in second place until lap 22, when Billy Wease, who started third, snuck under him as they ran through Turns 3 and 4. Todd McQuillen spun in Turn 4 with 34 laps down to bring out the only caution flag. Wease, who was lapping McQuillen around that time, took evasive action and in the scuffle Swanson got by him to regain second. Since Wease didn't stop he restarted third, but on lap 38 Wease repassed Swanson to regain second and push Swanson back to third place again.
That set up an intense battle between Swanson and Roahrig, who are the top two drivers in the point standings, as they circumvented the track while trying to avoid the lapped cars. Roahrig finally got by on lap 44 to push Swanson to fourth, and that's where the No. 77 finished. O'Gara had a 1.939-second margin of victory over Wease, who was followed by Roahrig, Swanson and Taylor Ferns. Top rookie contender Jackson Macenko was sixth followed by Dakoda Armstrong, Santos, Tony Main and Donnie Adams Jr.
Swanson ran only a few tenths of a second behind O'Gara in the early going, and most of the fastest race laps of the leaders were set early. Macenko posted the fastest race lap of anyone on lap nine with a 13.901 while Swanson was second-fastest on lap eight with a 13.973. Ferns was third fastest. O'Gara posted the fourth-fastest race lap.
Swanson, the series' defending champion, led the point standings over Roahrig by eight points going into this race, but Roahrig topped the charts by three points afterwards. Roahrig now has 1,398 points to Swanson's 1,395 and O'Gara's 1,348.
The championship battle will continue at the series' final two races of 2023, which will both be in Indiana next month: Oct. 7 at Anderson Speedway, and Oct. 14 at Lucas Oil Indianapolis Raceway Park in Brownsburg.
"We just didn't get a handle on [our set-up] in time," Swanson said afterwards. "A top-five finish is stout, but I wish we were a little further up the order. There are a bunch of great cars here; the field is getting deeper all the time. Congratulations to Kyle; he ran a great race. Tyler and I ran side by side for many laps. Hopefully we put on a good show for the fans. A big 'thank you' to Mission Foods, Glenn Farms, everyone on the Doran Binks team, and all the fans who came out tonight."
Saturday's race was livestreamed by MAVTV on Flo Racing.
Doran Binks Racing also fields cars for Swanson in the USAC Silver Crown series, where the team and Swanson are second in the current entrant and driver point standings, just one point out of first. That series also has two races remaining in 2023: Eldora Speedway in Rossburg, Ohio Sept. 22-23 and Lucas Oil Indianapolis Raceway Park in Brownsburg, Ind. on Oct. 14.
About Mission Foods: The Gruma Corporation began in 1949 and is today the leading tortilla manufacturer worldwide. Mission Foods is a proud subsidiary of Gruma, and as the #1 tortilla company in the United States, manufactures a wide variety of authentic Mexican products. Five years ago it opened a state-of-the-art plant in Dallas, Texas, with the capacity to produce 30 million tortillas daily. Today Mission Foods is a global company, with special emphasis not only on the United States but also Mexico, Central America, Europe, China, Malaysia, and Australia. Its products include flour and corn tortillas; tostadas; low-carb, whole wheat, organic and gluten-free items; wraps; flatbreads such as naan, pita and roti; tortilla chips and organic chips; chicharrones; salsa, and dips. For more information see missionfoods.com.
For more information on Doran Racing, see DoranRacing.com.
The team also has a Facebook page.