Driving the Mission Foods/Glenn Farms No. 77,
Doran Binks Racing's Swanson Finishes Second
In Both the USAC Silver Crown Championship
And the 500 Sprint Car Tour for 2023
After Howard Companies Championship Sunday at IRP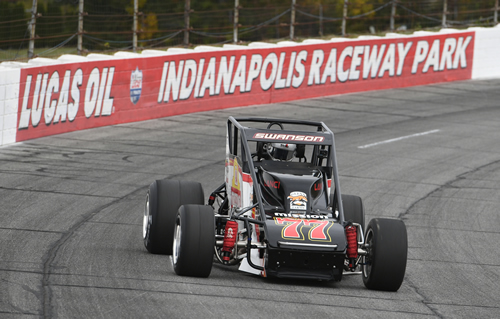 BROWNBURG, Ind., Oct. 16 — Doran Binks Racing and driver Kody Swanson finished fourth in the USAC Silver Crown series' 100-lap season finale Sunday at Lucas Oil Indianapolis Raceway Park with their Mission Foods/Glenn Farms No. 77. They placed second in the series' point standings for 2023, coming up just seven points shy of repeating as the series' champions.
The slim margin underscores how competitive the championship was. Driver Logan Seavey and the Rice Motorsports/Abacus Racing team won the title in USAC's top class with 676 points to Swanson and Doran Binks Racing's 669. A total of 836 points were up for grabs in the series' 11 races.
Doran Binks Racing and Swanson also finished second in the 2023 edition of the 500 Sprint Car Tour Presented by Auto Value Bumper to Bumper Parts Stores after also winning that series' inaugural championship last year. They had an eighth-place finish in the 500 Sprint Car Tour's 40-lap race on Sunday at IRP. That championship's margin was larger at 58 points, as Tyler Roahrig won the title with 1,818 points to Swanson's 1,760 after nine races, unofficially.
Swanson guided the Mission Foods/Glenn Farms No. 77 to five victories in 2023 within the two series, which started in April. In a combined total of 20 races within the two series, he was only out of the top five three times, which is a remarkable accomplishment for the Kingsburg, Calif., native and the team based in Lebanon, Ohio.
The team used two different engine manufacturers during the year. A Lanci-prepped Ford powered the Silver Crown car at IRP while the sprint car's powerplant was a Binks-prepped Chevrolet.
USAC Silver Crown
The weekend's races at IRP, which also included a midget feature that Swanson won driving for Bertrand Motorsports, were supposed to be held on Saturday. Practice and qualifying were completed on Saturday but the three main events of the program, which was sponsored by the Howard Companies, were pushed to Sunday afternoon due to rain.
On Saturday Swanson won the pole for the USAC Silver Crown race with a time of 20.838 seconds for the 0.686-mile asphalt oval. That was worth three bonus points, and it also extended his record for the most poles in the history of the series to 46. Bobby Santos III qualified second followed by Kody's brother, Tanner Swanson; Justin Grant and Seavey in the 23-car field.
Kody Swanson and Santos were side by side entering Turn 1 on the first lap, but Swanson had the advantage as they exited the turn and he held the lead for almost a quarter of the race while Seavey slipped to seventh place. In the early going Kody Swanson set the fastest lap run by anyone in the race with a time of 21.289 on lap two, and on lap 17 he had a 0.810-second lead over Santos.
Around that point he was having some issues, however. "It got really tight out of nowhere around lap 20," he related afterwards, and on lap 24 both his brother and Santos got around him to push him to third.
Tanner Swanson was never again headed, and he won the race by a whopping 9.799 seconds over Santos, Grant, Kody Swanson and C.J. Leary. His victory was his eighth USAC Silver Crown win at IRP, making him the series' winningest driver at this track and edging Kody, who has seven Silver Crown triumphs at IRP.
Although Tanner had things going his way up front, his brother's race was getting more complicated. On lap 26 Grant and Leary passed him to push him to fifth, and he remained in fifth through lap 47. That included a yellow-flag period from laps 45 through 53 when Trey Burke's car began smoking. Although Kody was in fifth place before the yellow, he was some 4.462 seconds ahead of the only driver still in contention for the title, point leader Seavey, who ran in sixth. This was despite the fact Kody had hit the wall slightly in Turn 1 once due to handling issues.
That margin disappeared when Kody pulled off the track and went to the work area on lap 47 and lap 50 under yellow, hoping to make some adjustments to improve the car for a better chance at a good finish. He dropped from fifth to 11th place due to the stops, but he did not lose a lap due to the crew's quick work.
The green waved again on lap 54, but it was short lived. When Kody entered Turn 1 the car wouldn't turn properly and he hit the wall between Turns 1 and 2, unfortunately collecting the 15th-place car of Derek Bischak. Kody was able to continue but Bischak's day was done. The yellow was the final one of the race, and it lasted from laps 55 through 60.
Although the handling of his car was still compromised, Kody was determined to do everything he could to gain every position possible and keep his title hopes alive. That resulted in a valiant effort that was definitely memorable.
He rose from 11th to ninth on lap 63 by passing Dakoda Armstrong and Kyle O'Gara. Two laps later he moved into eighth place by passing Kaylee Bryson, the series' Rookie of the Year. Two laps after that he got seventh by passing Mario Clouser, and on lap 73 he moved into sixth by passing Davey Hamilton Jr.
The rest of the race was a battle royale for fourth between Seavey, Leary and Kody.
Kody pulled abreast of Seavey several times in Turn 1 and Turn 4 but couldn't make a pass stick. But on lap 98 of 100 Kody passed Seavey on the backstretch and Leary going into Turn 3 to rise to fourth, which is where he finished.
"Our car was really good for a while," Kody said after the race. "We changed the rear end before the race, and we had brake problems off and on all weekend. I got into the wall once in Turn 1. Then on the restart the same thing happened in the same turn as the car just wouldn't turn, and Derek Bischak got collected in it. I hate to have made a mistake that put him out of the race.
"The car was a handful but I kept trying because it was the only chance we had. I kept moving around the track to try to find a line that would give us a chance.
"I want to congratulate Logan Seavey and his team for winning the championship. I also want to thank the Doran Binks crew for all their hard work this year. We came really close. I also want to thank all our sponsors, especially Mission Foods and Glenn Farms, for their support."
500 Sprint Car Tour
Kody Swanson entered the weekend second to Roahrig by 13 points in the 500 Sprint Car Tour point standings. In addition to Roahrig and Swanson, Armstrong, O'Gara and Santos were still in the running for the title at the season finale.
Swanson qualified fourth on Saturday with a time of 20.536 seconds, just 0.225 off Roahrig's fast time. The inversion was a six, so Swanson started third in the 23-car field for the 40-lapper, which was the 64th running of the Joe James/Pat O'Connor Memorial. Tanner Swanson started on the pole with Santos alongside him. Billy Wease started beside Kody, while Jake Trainor started fifth next to Roahrig.
Kody Swanson went low at the drop of the green. The Swanson brothers and Santos were three wide in Turn 2 but Kody had the lead by Turn 4 of the first lap with Santos second, while Wease edged ahead of Tanner Swanson for third.
Santos dropped from second to sixth on lap two, so the top five at that point were Kody Swanson, Wease, Tanner Swanson, Roahrig and Trainor.
Kody was able to build up a half-second lead over Wease by lap five. Two laps later Roahrig passed Tanner for third, and then Tanner dropped back to sixth.
Roahrig passed Wease for second place on lap 11, and then he got under Kody in Turn 4 for the lead working lap 13. Roahrig led the rest of the way.
O'Gara passed Wease for third on lap 17 and Kody for second on lap 18, and he ran in second place the rest of the race.
Yellow-flag laps didn't count and there was only one caution, which came out with 18 laps down when the car that was 10th, driven by Bryan Gossel, started to smoke and he pitted. Santos also pitted at that point and he also retired.
Swanson kept up with Roahrig and O'Gara on the restart but on lap 20 he dropped from third to fifth when Wease and Tanner Swanson passed him. On the following lap he dropped to eighth when Trainor, Taylor Ferns and Jackson Macenko, the series' Rookie of the Year, also got by, and that's where he finished.
Roahrig had a 3.284-second margin of victory over O'Gara. Tanner Swanson was third followed by Wease, Ferns, Trainor and Macenko. Kody was pressured in the late stages by Nick Hamilton, but he held on for eighth. Brian Gerster rounded out the top 10.
"We struggled to get our car to handle," Kody said afterwards. "We thought we had it closer, but it got way too tight.
"Congratulations to Tyler and his team for winning the title," he said. "We had a good season, and I want to thank all the men and women on our team and our sponsors for their support."
The weekend's races were streamed live on Flo Racing.
Swanson and Doran Racing are the defending champions of both series.
About Mission Foods: The Gruma Corporation began in 1949 and is today the leading tortilla manufacturer worldwide. Mission Foods is a proud subsidiary of Gruma, and as the #1 tortilla company in the United States, manufactures a wide variety of authentic Mexican products. Five years ago it opened a state-of-the-art plant in Dallas, Texas, with the capacity to produce 30 million tortillas daily. Today Mission Foods is a global company, with special emphasis not only on the United States but also Mexico, Central America, Europe, China, Malaysia, and Australia. Its products include flour and corn tortillas; tostadas; low-carb, whole wheat, organic and gluten-free items; wraps; flatbreads such as naan, pita and roti; tortilla chips and organic chips; chicharrones; salsa, and dips. For more information see missionfoods.com.
For more information on Doran Racing, see DoranRacing.com.
The team also has a Facebook page.