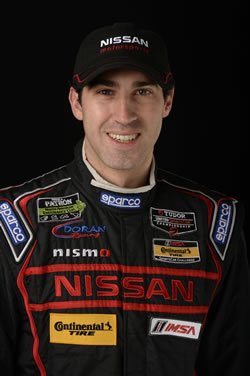 Doran Drivers: Brad Jaeger
Born: July 10, 1985 in Cincinnati, Ohio
Current residence: Charlottesville, Va.
Marital status: Single
Career Highlights:
* Finished fifth in CTSCC GS points in 2014 paired with B.J. Zacharias; best finishes were second at Watkins Glen and third at Sebring.
* Ran a limited season in CTSCC GS in 2013, but finished third at Laguna Seca.
* Won the Automotive X Prize in 2010.
* Competed in Daytona Prototypes from 2008 through 2010; best finish was fifth at Watkins Glen in 2008.
* Led the 24 Hours of Daytona in 2009; five-time Rolex 24 starter.
* Had success in both Star Mazda (now Pro Mazda) and Indy Pro Series (now Indy Lights).
* Won Formula 2000 Pacific championship in 2004.
* Finished second in Sports 2000 series in 2003.
Of note: Graduated from Vanderbilt University with a mechanical engineering degree in 2007. Currently pursuing his master's degree in business administration at the Darden School of Business, which is part of the University of Virginia. He was also the vice president of engineering and operations for Edison2, and along with Emanuele Pirro, drove its Very Light Car to its $5 million Automotive X Prize in 2010.