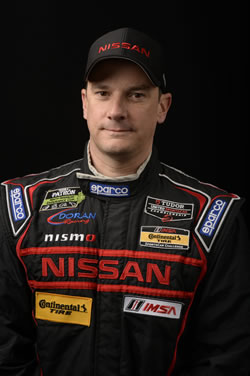 Doran Drivers: B. J. Zacharias
Born: Aug. 6, 1973 in Cincinnati, Ohio
Current Residence: Cincinnati, Ohio
Marital Status: Married to Stephanie; one son, Emerson, and one daughter, McKenzie.
Career Highlights:
* Four-time Rolex 24 starter with two podiums (2001 in SRP II in a Lola Nissan and 2009 in GT in Porsche GT3 Cup. Drove for more than 11 hours in 2001 race.)
* Finished sixth in CTSCC GS points in 2014 paired with Brad Jaeger; best finishes were second at Watkins Glen and third at Sebring.
* Finished second in CTSCC GS races at Mid-Ohio and Barber in 2013.
* Finished second in CTSCC GS series in 2004; best finish was second at Watkins Glen.
* Finished fourth in CTSCC GS II points in 2003; best finish was second at VIR.
* Six top-six finishes in six starts in Rolex series (GT) in 2002.
* SCCA Formula Atlantic national champion in 1998.
*SCCA Formula Continental national champion in 1997.
* Received Road Racing Drivers' Club's prestigious Mark Donohue award.
* Driving experience in the United States and Europe in Formula 2000, Formula Atlantic, Formula 3, Formula 3000, World Sports Car, Daytona Prototypes and GT cars.
Of note: Offers driver development, coaching and data acquisition services through his company, Downshift Motorsports Group. Huge Bengals fan.