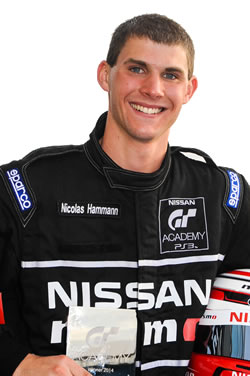 Doran Drivers: Nic Hammann
Born: July 26, 1993 in Elkhart Lake, Wis.
Current residence: Elkhart Lake, Wis.
Marital status: Single
Career Highlights:
* Finished fifth overall out of 96 entries and second in the Pro-Am class in the 2015 24 Hours of Dubai.
* Winner of GT Academy in 2014.
* Competed in SCCA STU and STL regional and national club races.
* Raced numerous ChumpCar World Series events while in high school.
* Won three Road America karting championships in 2007, 2008 and 2009.
Of note: Pursing a bachelor's degree in mechanical engineering with a motorsports concentration at the University of North Carolina, Charlotte. Road America and Northwoods Shelby Club driving instructor. Enjoys running, biking, simulator racing, and working on cars. Started karting at age 6.