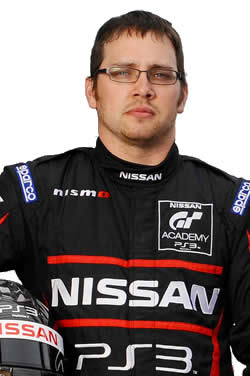 Doran Drivers: Steven Doherty
Born: Aug. 11, 1983 in San Jose, Calif.; raised in Woodstock, Ill.
Current residence: Plainfield, Ill.
Marital status: Single
Career Highlights:
* Won twice (Road America and Miller Motorsports Park) and had three second-place finishes in six starts in Pirelli World Challenge TC class in 2014.
* Drove with Bryan Heitkotter in nine CTSCC ST races in 2014, including the one at the famed Indianapolis Motor Speedway. Best finish was seventh at Kansas.
* Achieved one podium finish (second in Pro-Am at Paul Ricard) in four starts in the Blancpain Endurance Series in 2013.
* One start in FIA GT in 2013; finished second at Navarra (Pro-Am).
* Earned the Sunoco Hard-Charger award in Pirelli World Challenge (GTS) race at Mid-Ohio in 2013.
* Finished in the top 10 in his class in the 2013 24 Hours of Dubai.
* GT Academy champion in 2012.
Of note: Earned a degree in automotive technology from Universal Technical Institute in 2003. Was the 2006 FWD track champion at Lake Geneva Raceway. Enjoys BMX, mountain biking, cycling, gaming and building race cars.